Eliza Fernand
NATR-XXX
1224 W Loyola Ave, Chicago IL
March 1, 2023 - March 18, 2023

Hotline toll-free 24/7 at 1-833-NATR-XXX
Projections after dark, on view directly from the street
Reception Saturday, March 18 // 6-9 PM


NATR-XXX
is a storefront iteration of
Erotic Experiences with the Natural World for a Person at Home Alone
by Eliza Fernand, a series of narrated audio works:
Houseplant Intimacy
,
Fooling Around with Air
, and
For a Person with Running Water
. These works are multi-sited and accessible through the links above, a printed zine, and a toll-free hotline.
After the launch of the hotline in 2020, the phone number is being distributed in public through posters and tagging in cities across the U.S. and Canada. Fernand created "commercials" for the hotline, riffing on promotions for anti-depressants, phone sex lines, and miracle products. Roman Susan is grateful to host a new display of these messages through nightly projections to conclude Winter 2023. The hotline is live – you should call right now:
1-833-NATR-XXX




This body of work will be expanded in 2023, moving out into the streets of Rogers Park as a part of

Navigations

, artist projects shared and realized in public/common space. New elements are being added to the hotline – join us for the closing celebration on March 18 to experience site-responsive intimacy with our neighborhood.


Eliza Fernand is an artist and educator who works primarily with video, sound, fabric, and clay. With a BFA in Sculpture from Pacific Northwest College of Art, and an MFA in Interdisciplinary Arts from Sierra Nevada University, they have led a cross-country career, attending over a dozen artist residencies and exhibiting internationally. A new citizen of Chicago, she continues to pursue artmaking and teaching opportunities, with the aim of provoking acceptance of loving practices outside of the norm, and promoting experimentation on all levels. For more information, please visit elizafernand.com.


---
Dalila Sanabria
Without Rise
1224 W Loyola Ave, Chicago IL
December 1, 2022 - January 6, 2023




Without Rise at Roman Susan will conclude with our first event of 2023, an exchange and celebration with the artist on Friday, January 6. Come and partake. Te invitamos al cierre de nuestra exhibición Without Rise, una muestra artística de la cultura del pán de Chile. Everything must go! Agradecemos y aceptamos su donación voluntaria.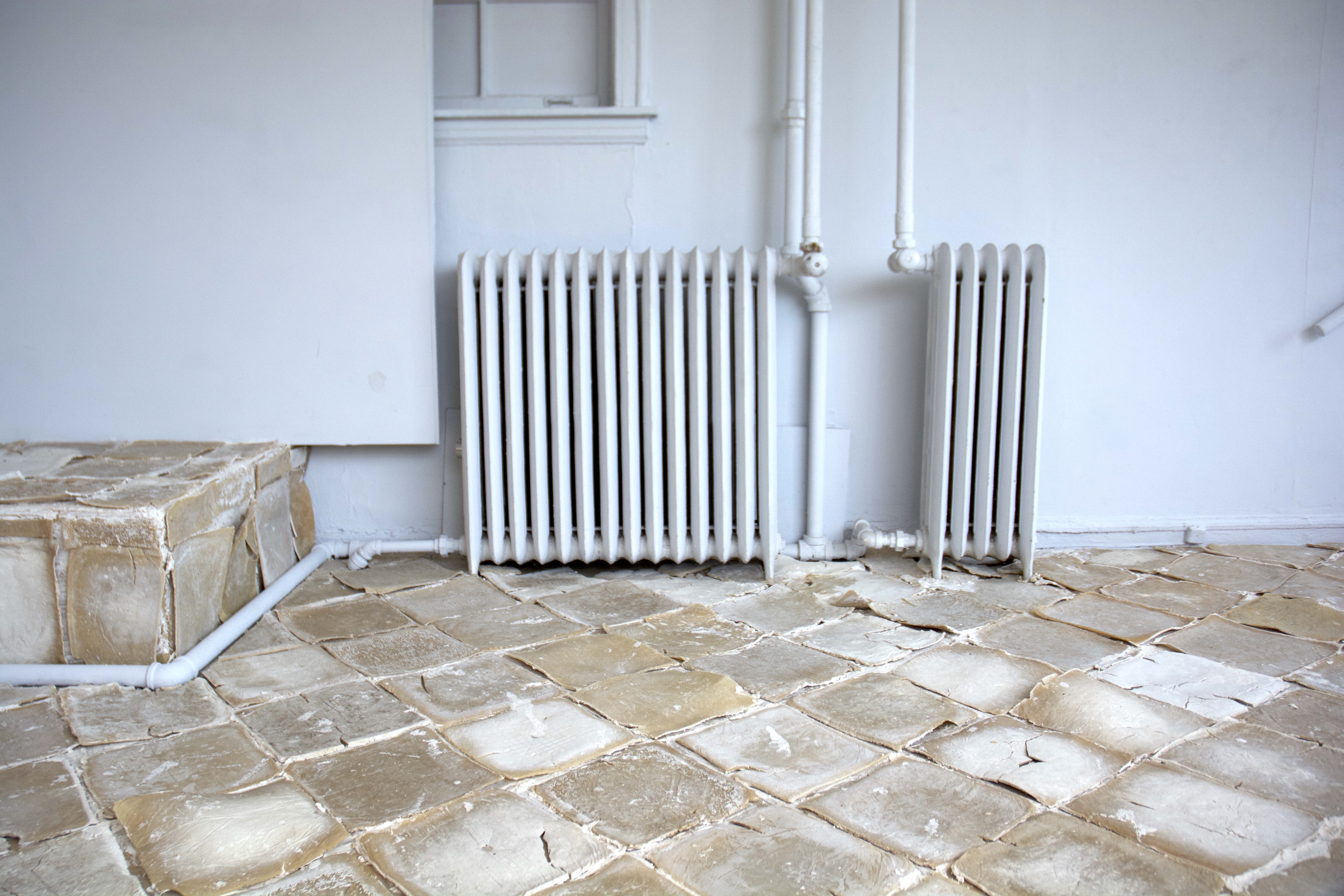 Dalila Sanabria is an interdisciplinary artist from central Florida sharing dual nationality with Colombia and Chile. Working primarily with sculpture and video installation, Sanabria attempts to memorialize absence and sites of security through acts of accumulation and removal. Her use of organic materials remains as significant as her cross-cultural identity, often working with flour, salt, coffee and mud as catalysts for exploring notions of displacement, permanence, brownness and belonging.




Sanabria has received a BFA in Art and BA in Portuguese Studies from Brigham Young University. She has exhibited nationally and internationally, with recent exhibitions at Tiger Strikes Asteroid Gallery in Philadelphia, PA, QUAID Gallery in Tampa, FL, the Contemporary Arts Center New Orleans, the Czong Institute of Contemporary Art Museum in South Korea, and the Rio Gallery in Salt Lake City, UT. She has been written about in Art in America, SaltLakeUnderGround Magazine, Terremoto Magazine and Creative Loafing Tampa Bay. She has also received numerous awards and grants that have allowed her to perform projects in locations such as Brazil, Colombia, Chile and Germany. Sanabria is currently an MFA candidate in the Sculpture Department at Cranbrook Academy of Art, slated for graduation in 2023. For more information, please visit dalilasanabria.com.


---
Anna Martine Whitehead
Notes on Territory: Meditation
1224 W Loyola Ave, Chicago IL
October 29, 2022 - November 20, 2022

In 1835, Harriet Jacobs left the swamp she'd been hiding in and slipped into the crawlspace above her grandma's house, where she stayed for 7 years. As a fugitive from slavery, she was unable to leave – even to exercise or use the bathroom – and her light was provided by a small peephole, through which she watched her two little children (unbeknownst to them). She called this dark, solitary, cramped, and hidden place her "loophole of retreat." It was her own private territory, the liminal non-space that changed her body and her life en route to liberation.

Harriet left us an autobiography that we still use today to understand antebellum life for a fugitive Black woman and mother. Notes on Territory: Meditation similarly invites participants into a space of freedom dreams and study. Using wood from Chicago's Lathrop Homes projects and built to the same dimensions as Harriet's garret – which, ironically or not, is almost the same dimensions as the average U.S. prison cell, except in height – the central piece is both a resting site and a non-circulating library. In her collage work, Whitehead explodes writing generated inside prison by Jimmy Carr and Assata Shakur alongside graphical representations of the Cape Coast slave castle. Sound made in collaboration with Sofía Córdova emanates throughout the space to create a sonic atmosphere of containment and possibility.

Who is here with us? What can we learn? How can we rest? How do we prepare?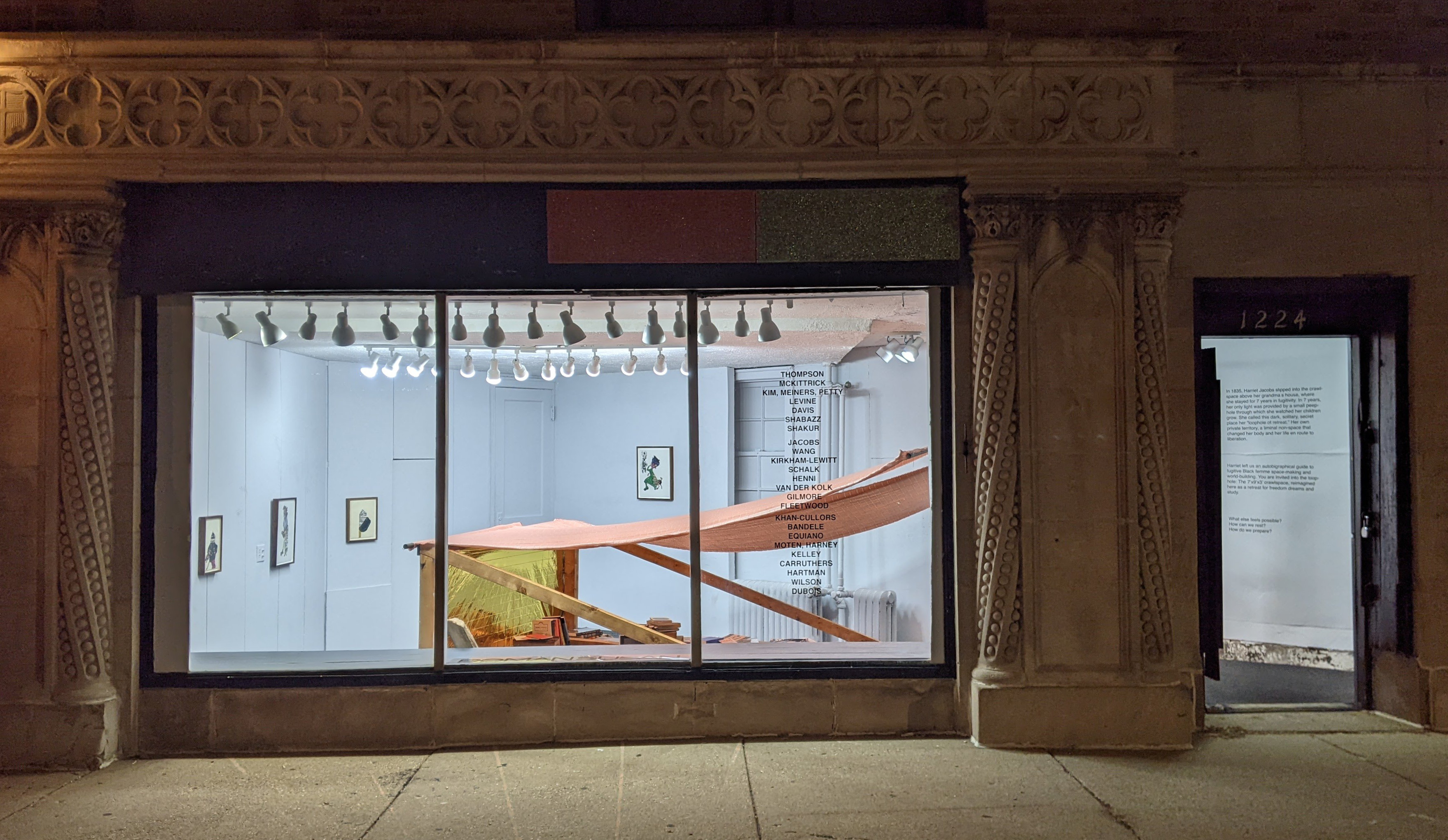 Anna Martine Whitehead is a queer Black and brown artist doing performance from the homelands of the Council of the Three Fires: The Odawa, Ojibwe and Bodéwadmiakiwen (Potawatomi) Nations; as well as the Miami, Ho-Chunk, Sauk and Meskwaki; the Kiikaapoi, Peoria, and the Očeti Šakówiŋ (Sioux) Nations. For more information, please visit annamartine.com.

Made in collaboration with Sofía Córdova, Bryan Saner, Giau Truong, Emily Winter and The Weaving Mill, and Harriet Jacobs. The opening date featured a sound performance and intention-setting with Lynn Hunter. On November 10, the space was activated by a performance created with Jay Carlon. Notes on Territory: Meditation has been supported with a grant from the Graham Foundation for Advanced Studies in the Fine Arts, and was previously exhibited at SITE/less.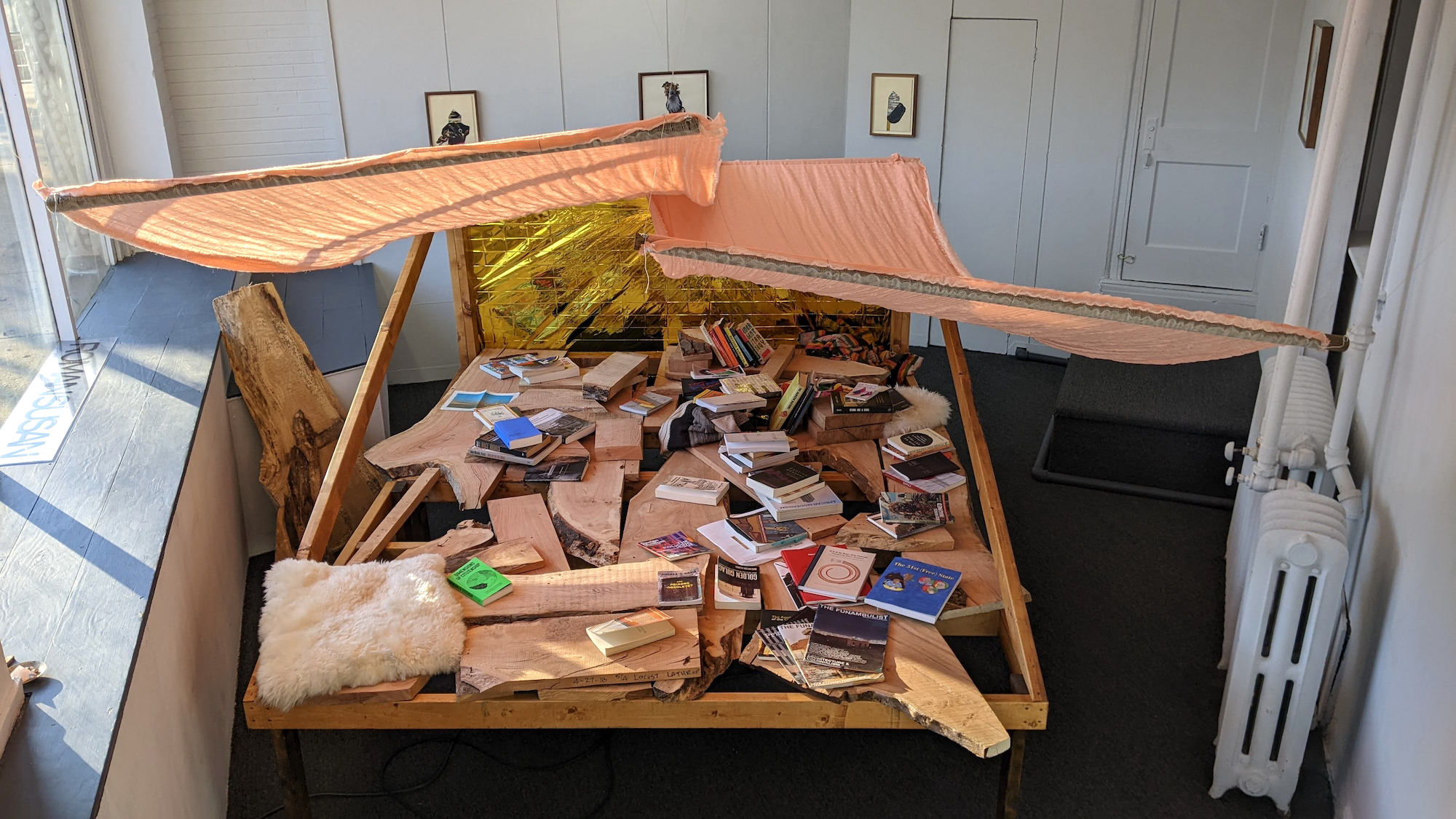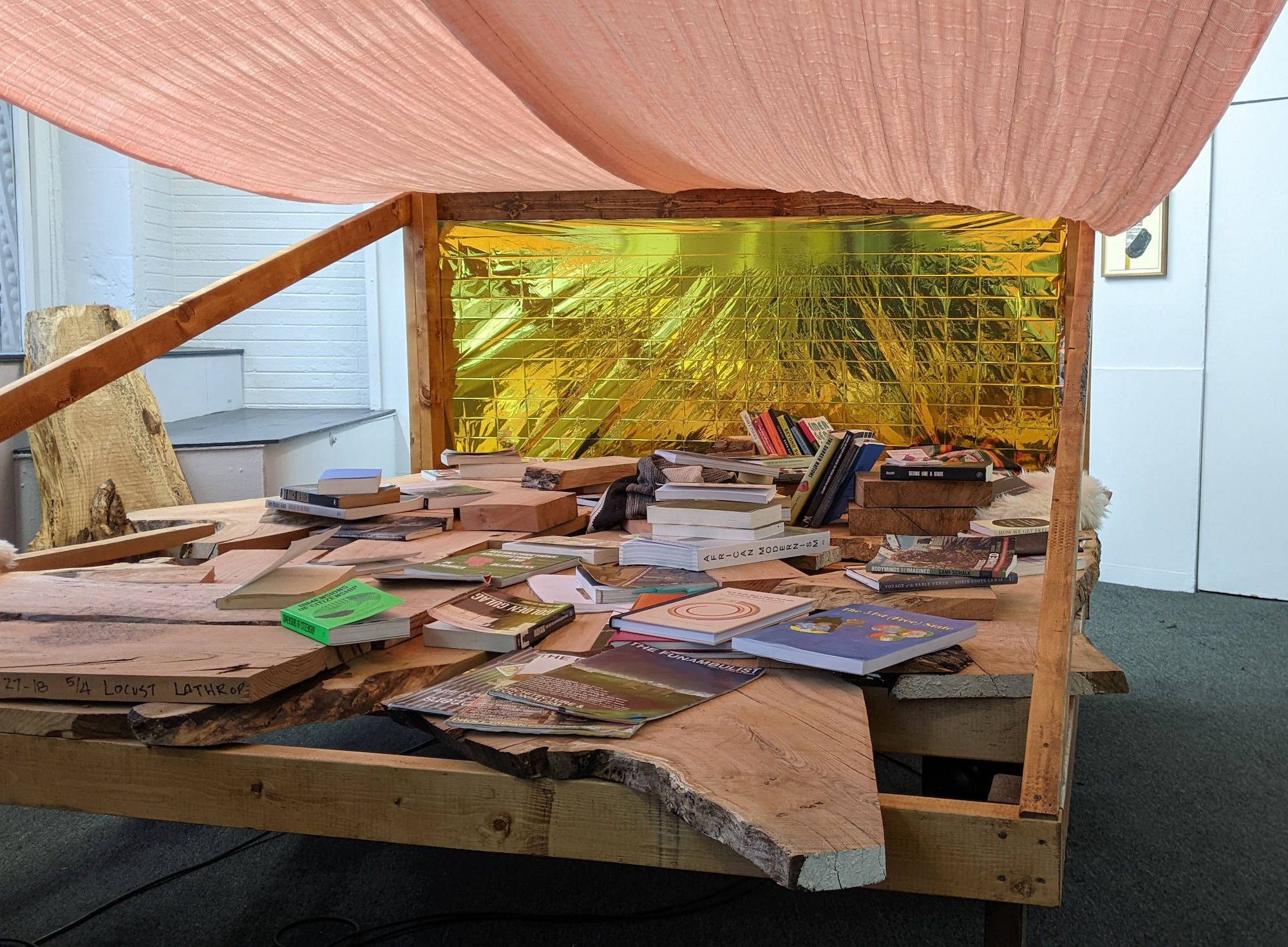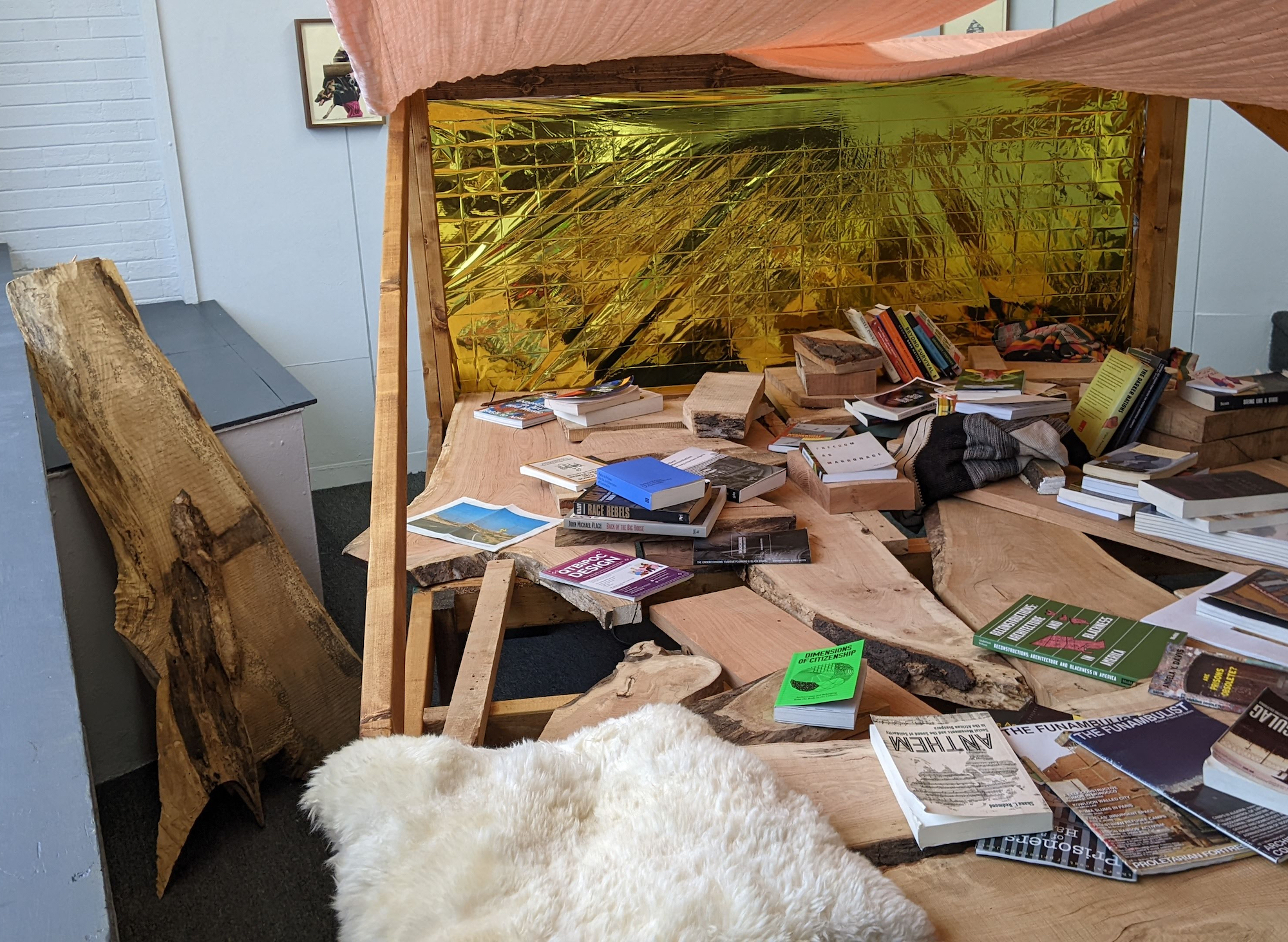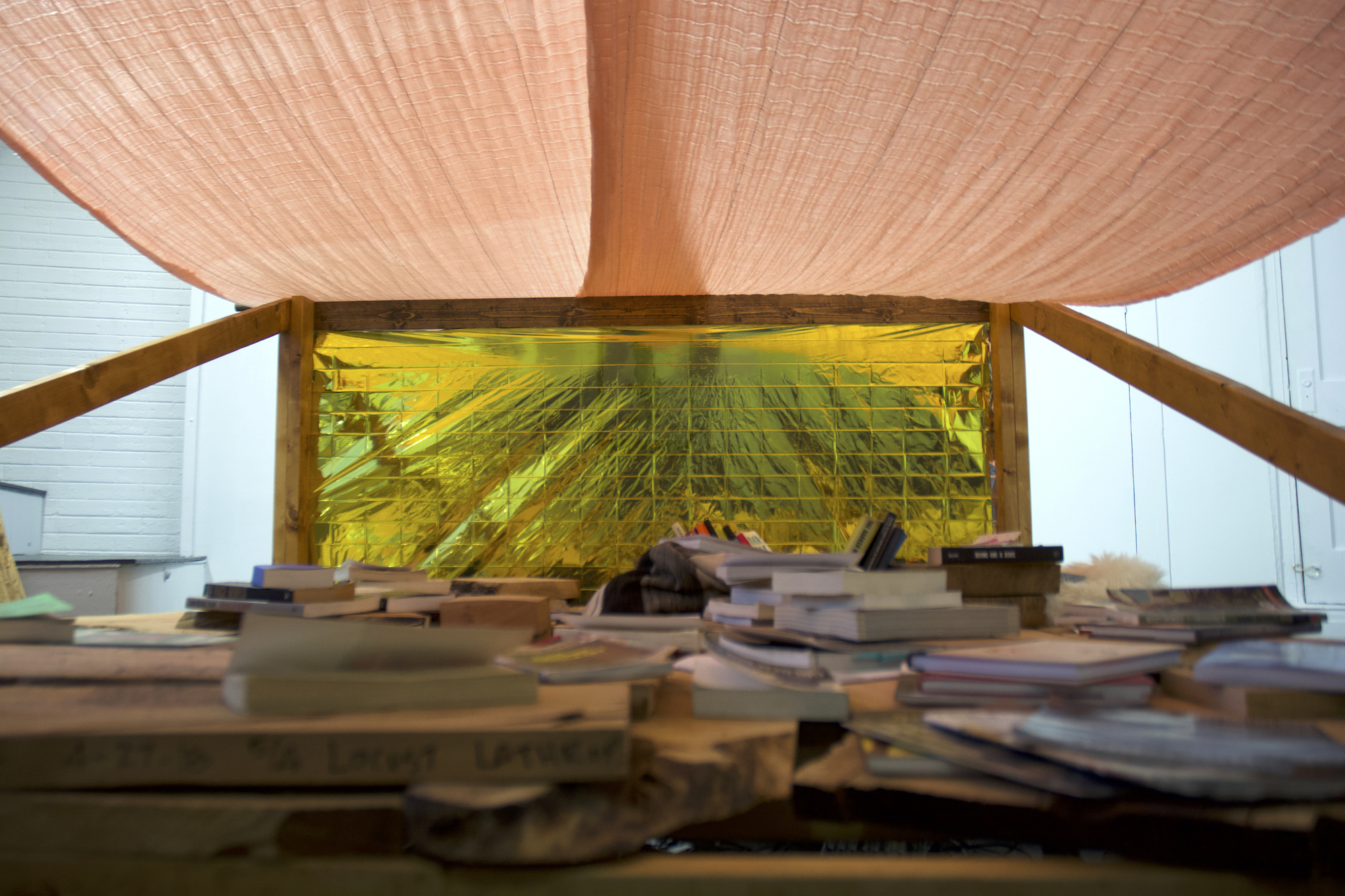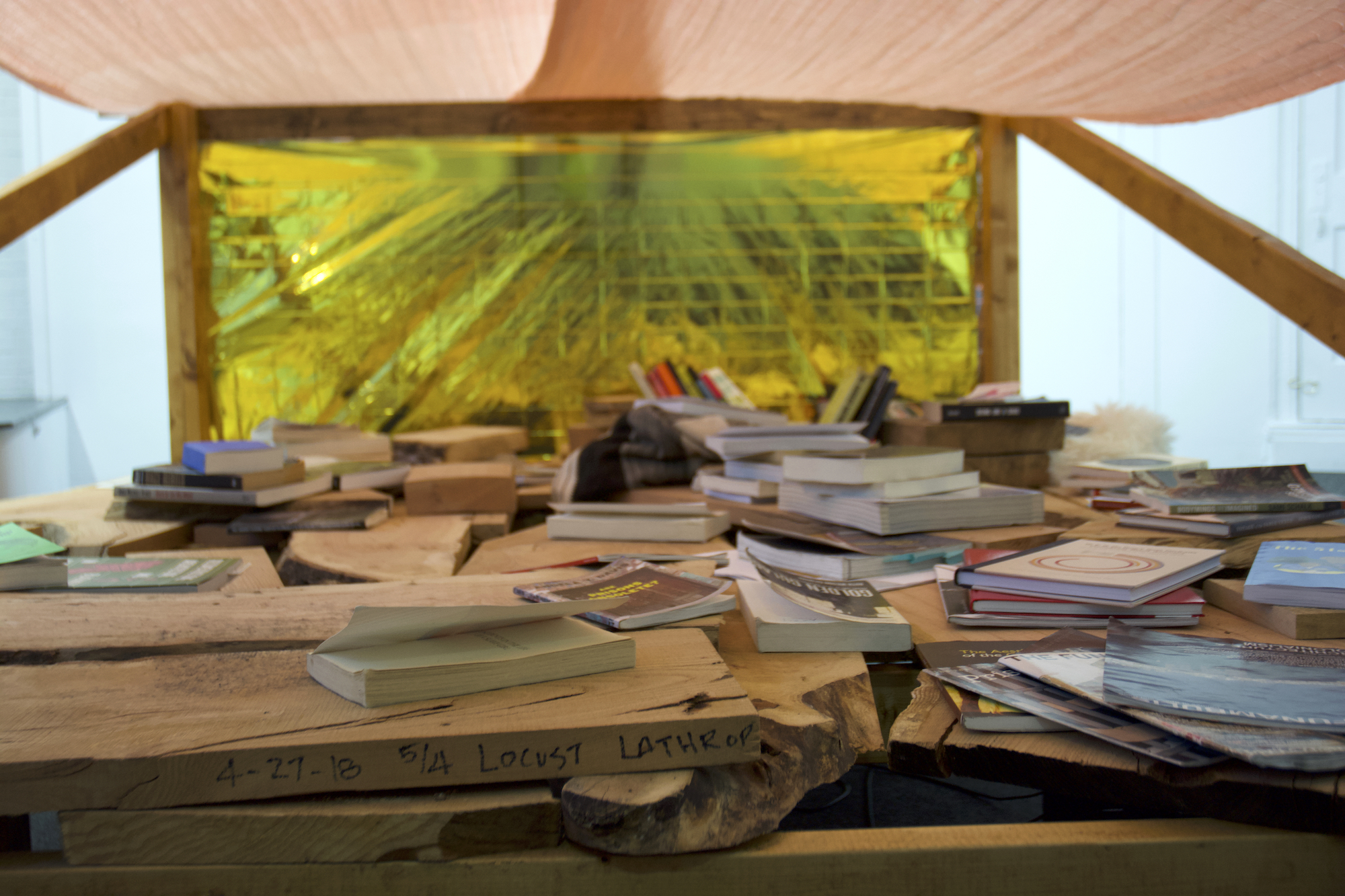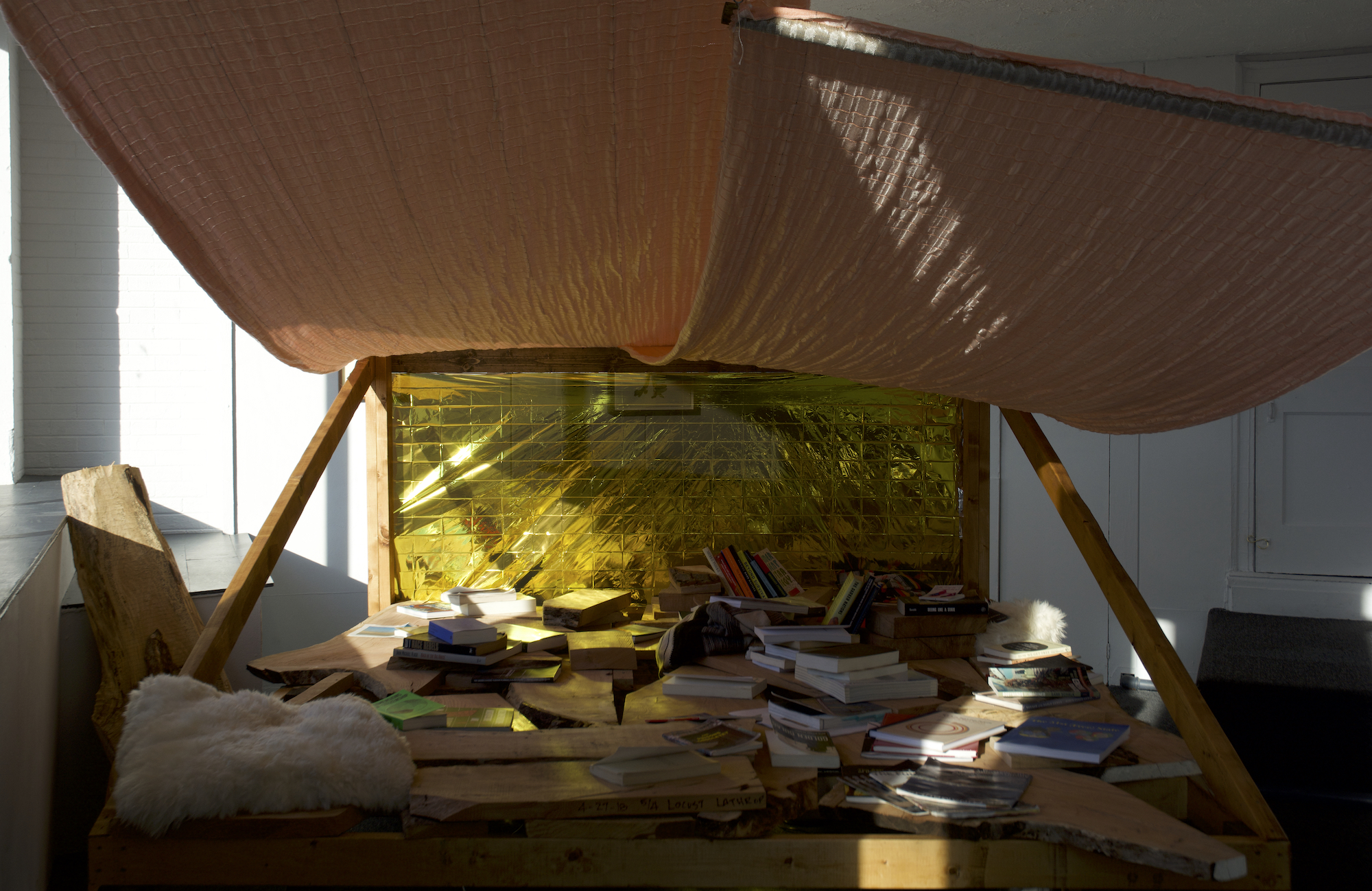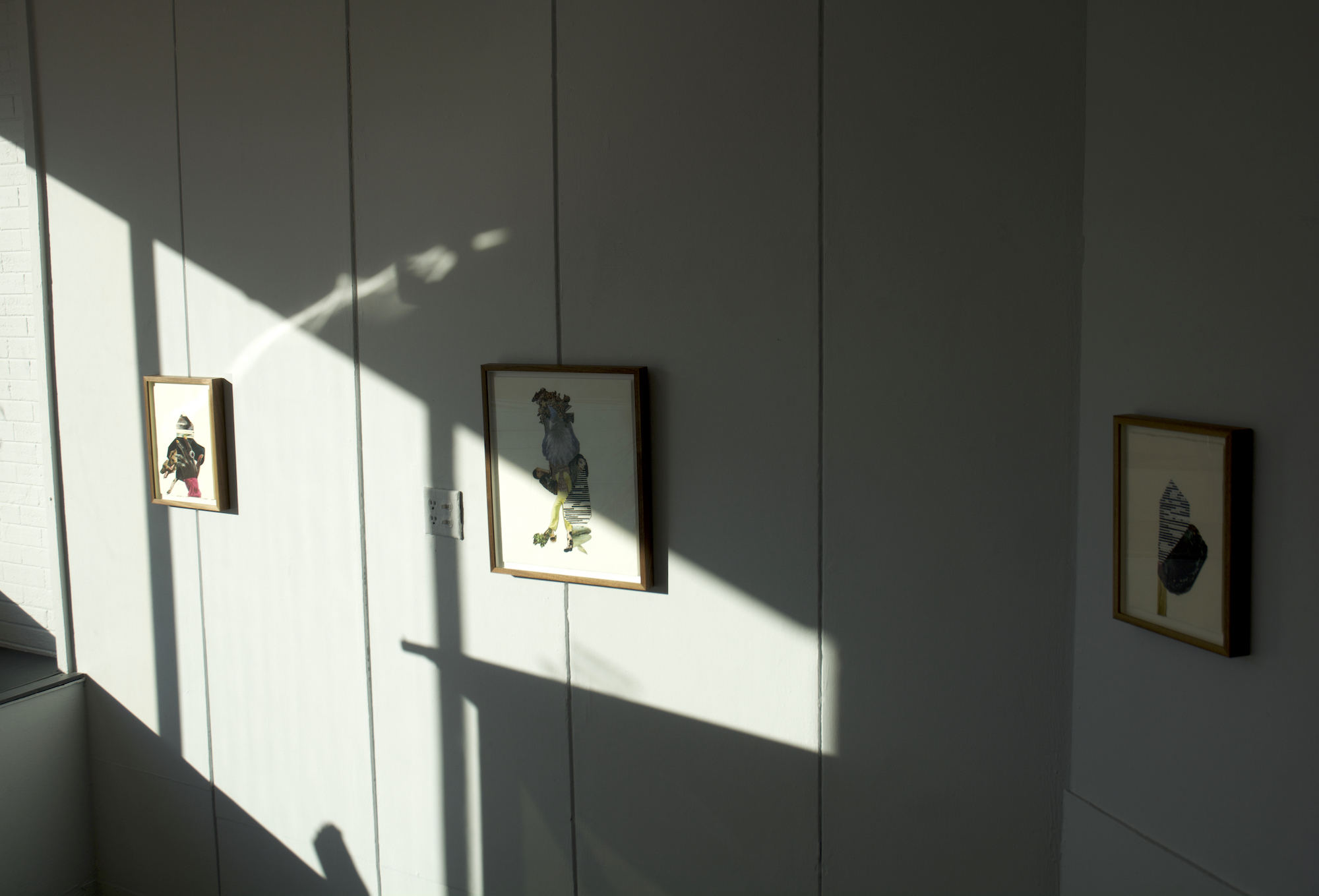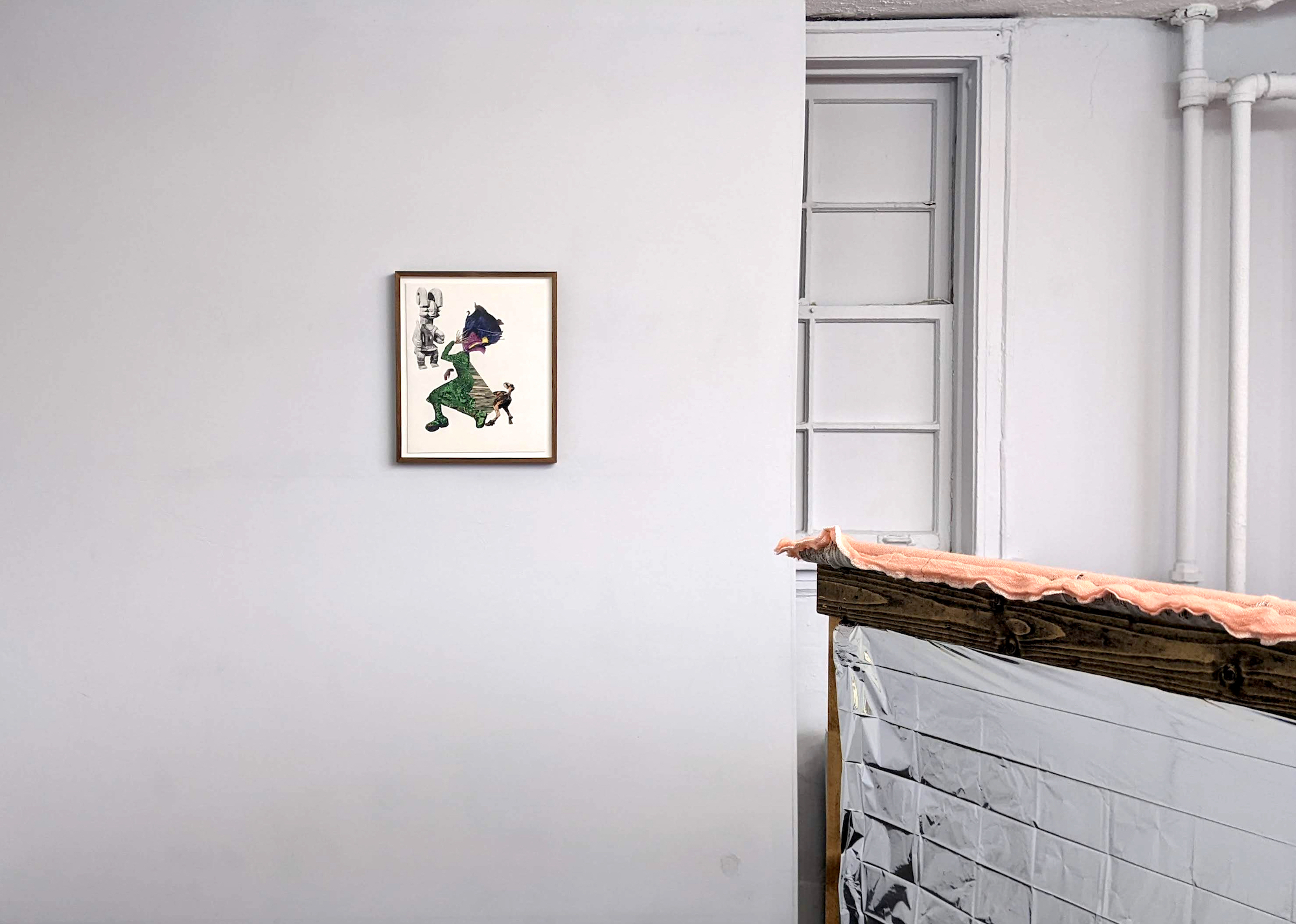 Notes on Territory: Meditation Bibliography

New Ways of Survival | Chicago Reader - November 9, 2022

Chicago Must See | ARTFORUM - October 28, 2022
Anna Martine Whitehead | Bad at Sports - October 27, 2022
---
Chloe Munkenbeck
Interior Motives
1224 W Loyola Ave, Chicago IL
September 11, 2022 - October 9, 2022

******* Boudoir noun /büːd.wa/

"The boudoir first appeared in the early 1700's as a term that referred to a distinctly female space. It had no specific program, but accommodated a variety of activities – reading, resting, bathing, dressing, intimate conversation, and, later during the libertine era, a place for clandestine meeting and sexual seduction."

– Anne Troutman, "The Modernist boudoir and the erotics of space," in Negotiating Domesticity




While the excess of a space exclusively dedicated to reflection, intellectual advancement, bathing and sexual fantasy is uncommon in modern architecture – I would certainly welcome its revival – the locked bathroom space supplants itself as today's boudoir. The most private of private space, its secluded spatial condition invites curious exploration, a close self examination of flattering/unflattering angles, and a space of solitary relief.

Interior Motives uses the hidden plumbing and objects of the domestic bathroom to reveal the unfulfilled, restrained, and hidden desires examined within. The pipe infrastructure is ever present yet largely invisible but for its orifices: the drain of a sink, the slow drip of a faucet, the spray of a shower head. The cold, tiled surroundings of the bathroom acts as a most trusted witness, containing these intimate acts in its walls and flushing them away, never to be seen again.

In a single architectural structure, all plumbing culminates to a single point of exit. Our most intimate, solitary acts, both the sensual and grotesque, mix and combine together with those of our neighbors before being released into the expansive public infrastructure. As the lowermost unit, Roman Susan is the first and last node for 1224 W Loyola Ave's intimate secretions, the neighbours' remnants running through the gallery space. Interior Motives intercepts this flow, exposing the surrounding innermost thoughts before they are ejected into the public realm.

– Chloe Munkenbeck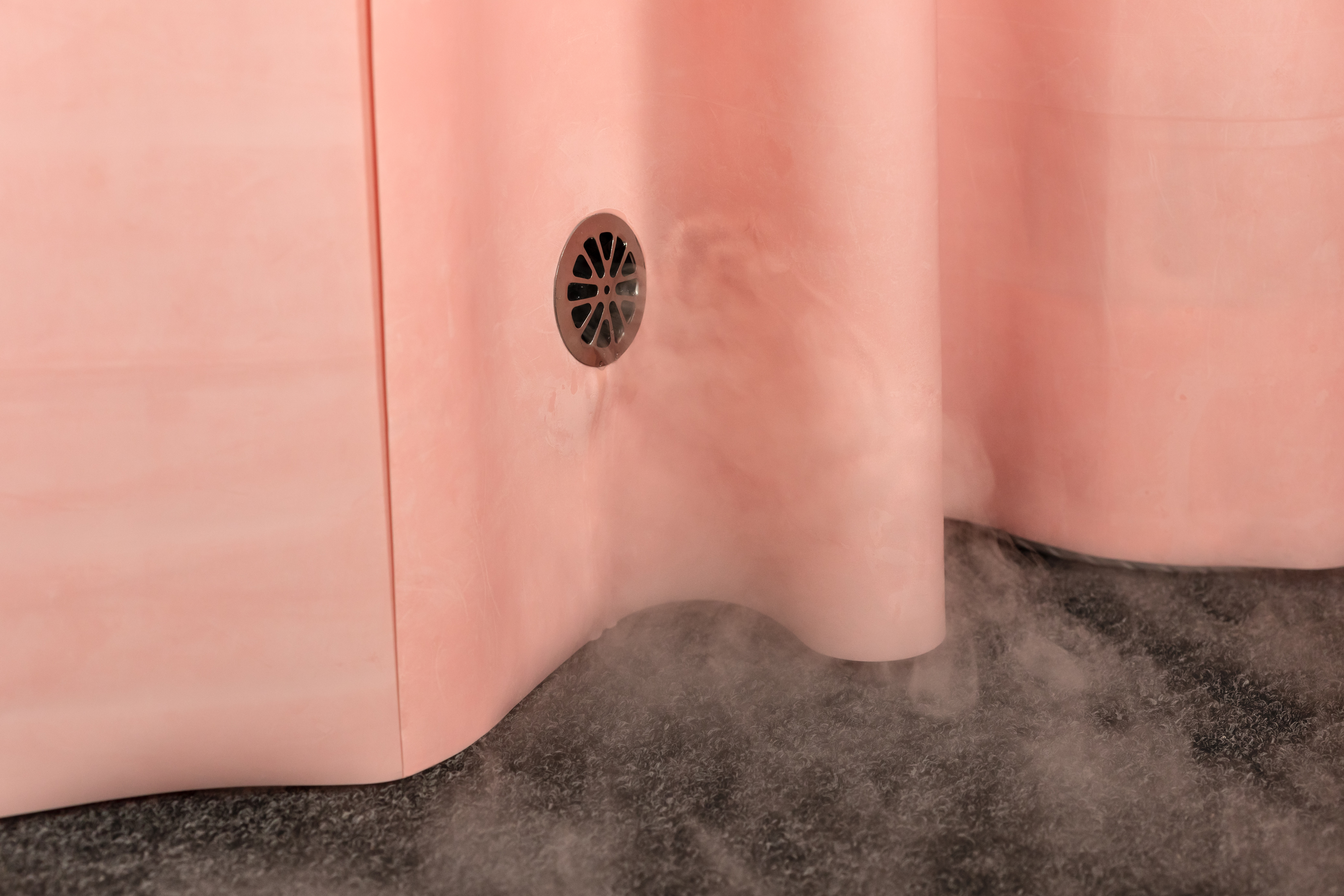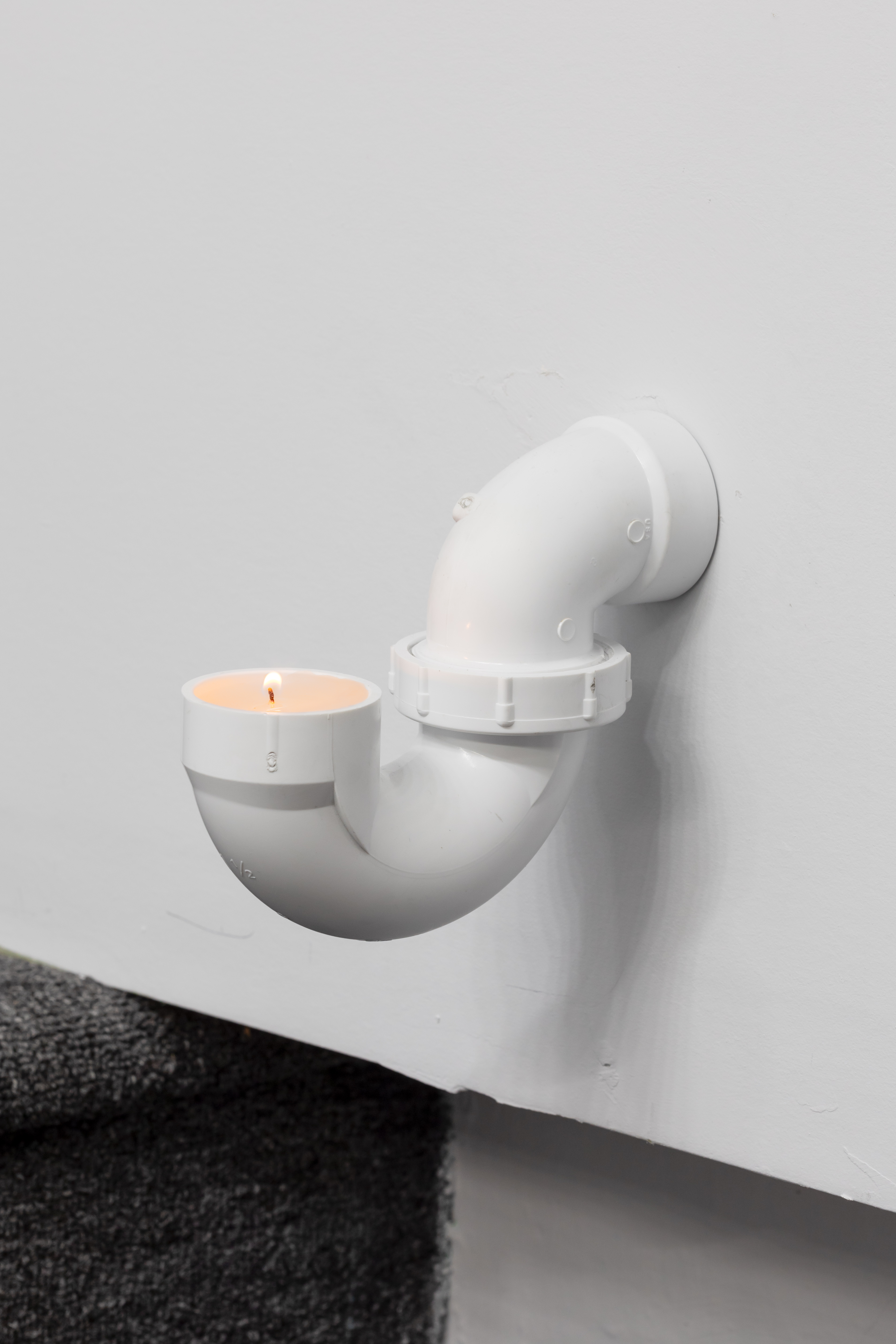 Chloe Munkenbeck is an artist and architect from London, UK. She graduated with an MFA from SAIC and lives and works in Chicago. She uses architectural structures as both metaphor and medium to unpack the idiosyncratic codes of conduct they arouse. For more information, please visit chloemunkenbeck.cargo.site.

Photography by Useful Art Services

Chicago Must See | ARTFORUM - September 14, 2022

Interior Motives Exhibition Guide (PDF)

The Basin Girl by Seda Öznal (PDF)


---
Kevin Norris
All Water Has a Perfect Memory
1224 W Loyola Ave, Chicago IL
August 26, 2022 - August 28, 2022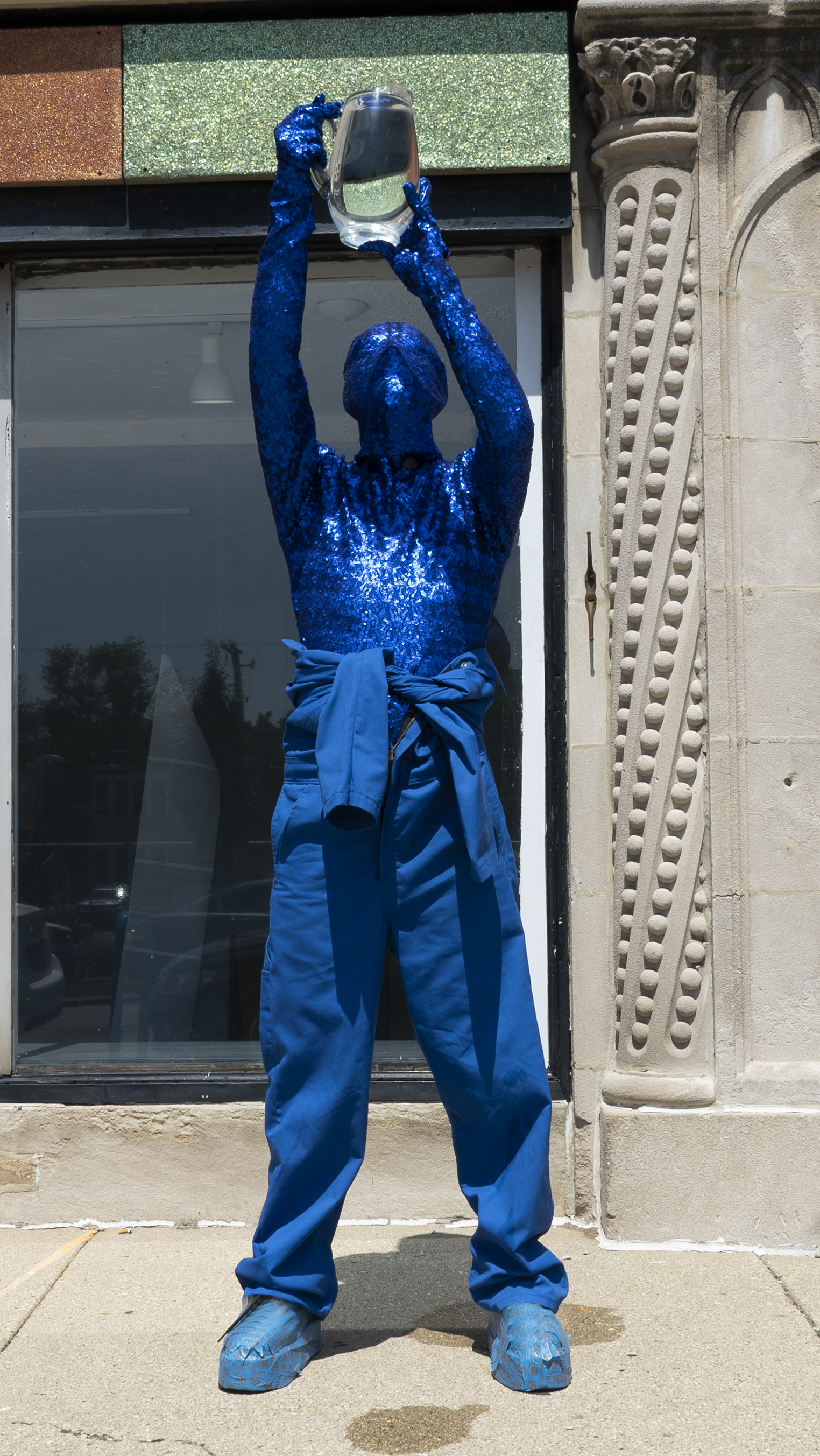 All Water Has a Perfect Memory is a collection of objects, offerings, and ephemera activated by performance. The color blue serves as the agent to bind a variety of disparate thoughts, memories, and materials. Three texts – A Field Guide to Getting Lost by Rebecca Solnit, Bluets by Maggie Nelson, and The Site of Memory by Toni Morrison – influence the thematic underpinning of the work.

The performance borders drama and ritual as performers enact a series of tasks and gestures to create an unstructured narrative. The color blue acts as a visual anchor – representing longing, desire, and transcendence – as well as a theoretical framework that establishes a structure to scaffold the ambiguity and fluidity of the narrative. Water carried from Lake Michigan to the space serves as an offering to the ritualized space created within the performance.

The temporal nature of performance lends itself to fleeting feelings associated with transcendence and the abyss. Each ephemeral object in the show references the immediate and transient recollection of thoughts and emotions tied to memory. Recurring questions that arise from the work are: Where does one go when lost? What might transcendence look like? And how can memory function, through storytelling, to create meaning?


---