1224 W Loyola Ave is a storefront project space for exhibitions and events in the Rogers Park neighborhood of Chicago, Illinois. Roman Susan encourages and accepts artist proposals for new projects at this space. 148 artist-led projects have taken place at this location from November 2012 to September 2023.

1224 W Loyola Ave has three descending stairs to a recessed floor; regrettably, the interior of the exhibition space is not wheelchair accessible. The public washroom is a very confined space, up two stairs from the exhibition floor. If these factors or others present a barrier for your visit, please write to art@romansusan.org or leave a voicemail at (773) 270-1224 in advance for alternate arrangements. Roman Susan at 1224 W Loyola Ave is located 85 meters northwest of the Loyola CTA Station, with direct access for public transit via the Red Line train and the 147 bus line. A Divvy bike-share hub is located at the west exit of the CTA. There is on-street parking on W Loyola Ave, and a paid parking garage at 1210 W Arthur Ave immediately to the south. For all projects at 1224 W Loyola Ave, open hours are scheduled in advanced, and available at other times by appointment. All projects are visible from the sidewalk immediately outside the space 24/7.


---
---
J. Kent
mille tendresse-mille fleurs
1224 W Loyola Ave, Chicago IL
October 6, 2023 - October 22, 2023

Reception Friday, October 6 from 6-9 PM
Performance Saturday, October 14 at 4 PM
Open Hours Fridays, Saturdays, Sundays 4-7 PM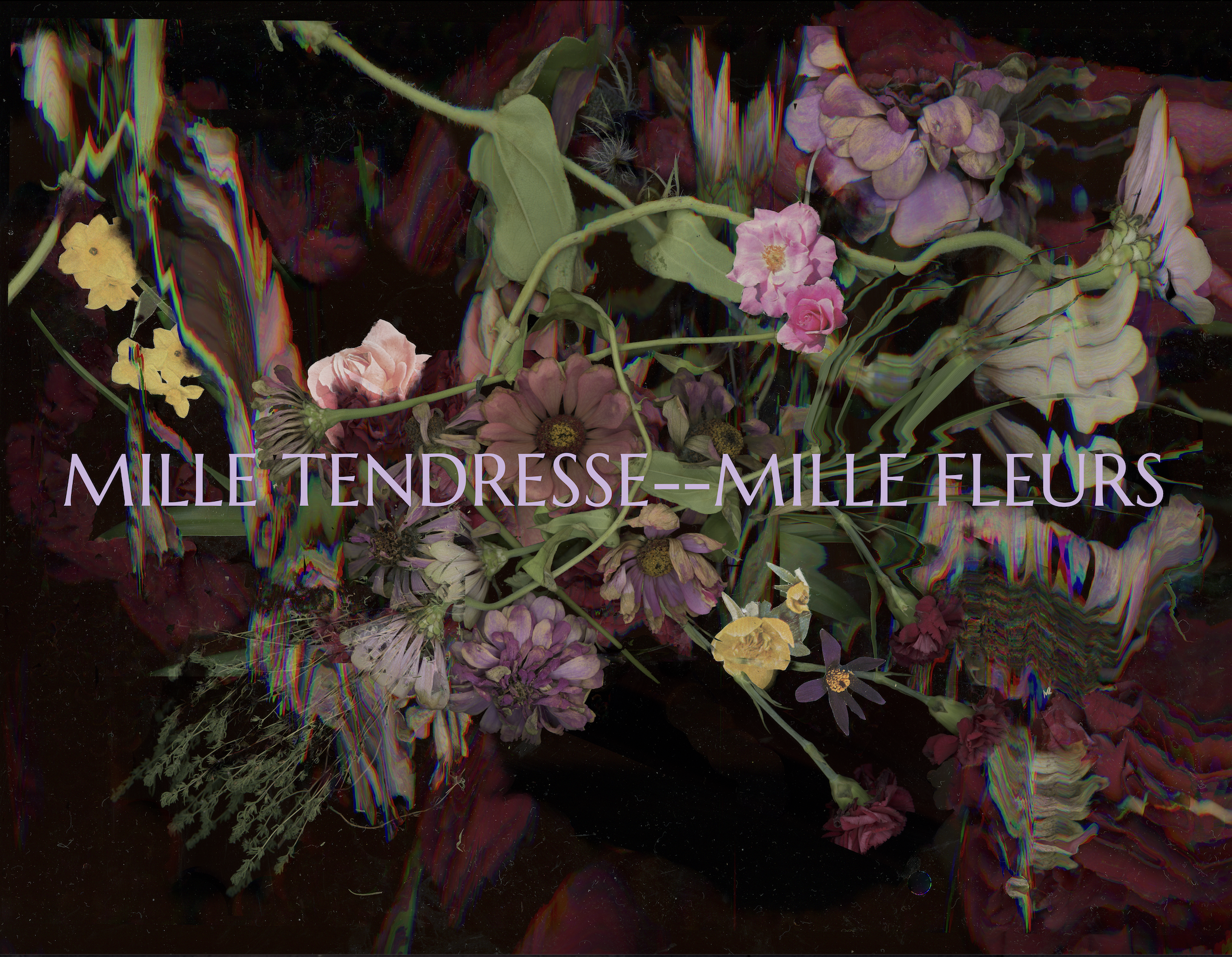 ---
Chloe Johnston
Grace
1224 W Loyola Ave, Chicago IL
September 22, 2023 - September 23, 2023

Performances Friday 7 PM and Saturday 2 PM + 7 PM

Written and performed by Chloe Johnston
Directed by Coya Paz
Design by Angie Tillges
Tech by Nathan Lamp




Grace is an interactive performance and a deeply personal look at artificial intelligence, games, technology, and the people who make them. It is an investigation of how we interact with natural language processing programs everyday--and how they will never love us back. It is about identity and how it is constructed in person and online. And it's about what happens when your voice travels around the world in ways you never imagined.

In 2003, I was hired to provide the voice for "Grace" for a video game loosely based on the play Who's Afraid of Virginia Woolf? The game used natural language processing to provide realistic interactions between players and characters. It was released online in 2006; to date it has been downloaded 5 million times. In the years since, "Grace" has been the inspiration for fan art, memes, and music. She's reached a much wider audience than I ever will.

As we negotiate a world where AI changes every day, where artists are fighting to keep control of their voices, Grace is a chance to think about what it means to become part of technology, and what we lose and gain.

–– Chloe Johnston




Grace was developed with support from Pivot Arts, Links Hall, Lake Forest College, and The Orchard Project.

Special thanks: Julieanne Ehre, Seth Bockley, Shana Cooper, Stephanie Pacheco, Giau Truong, Bryan Saner, Kristina Isabelle, Bob Knuth, Alex Johnston, André Pluess, Brenna Jeffers, Mario LaMothe, Danielle Ross, Jenn Freeman, Devon de Mayo, Andy Bayiates, Sunny Johnston

Chloe Johnston is a writer, director, and teacher in Chicago. Her work transforms deep archival and sociological research into interactive, accessible, and surprising performances that deal with the thorniest issues of the past and present. She has worked with theatres across Chicago and is a long-time ensemble member of The Neo-Futurists. Her original plays and performances have been called "powerful" by the New York Times, "lively and affecting" by the Chicago Tribune, "inspired" by the Chicago Sun-Times, and "moving, engaging, thought-provoking" by Time Out Chicago. Recent projects include 46 Plays for America's First Ladies ("Critics Pick," the New York Times), a reimagining of American history currently in production around the country. She is also the creator of Leave the Light On, a collaboratively created, interview-based performance and audio project about caretaking labor. She is a passionate educator and a scholar who has published widely on devised theatre and activist performance, including co-authoring Ensemble-Made Chicago: A Guide to Devised Theater, published by Northwestern University Press. For more information, please visit chloejohnston.org.


---
Charles Joseph Smith
Rogers Park DIY
1224 W Loyola Ave, Chicago IL
September 2, 2023

Celebration Saturday, September 2 at 6 PM


As a profound lover of Chicago's DIY life, Charles Joseph Smith will share a presentation about Rogers Park DIY spaces Mess Hall and the Heartland Café. Both sites created long-term vital creative and political spaces for artists in Rogers Park and across the City. In this spirit, Charles will also talk about War of the Martian Ghosts, his work-in-progress DIY opera. Following the discussion, we will celebrate and have pizza next door at our neighboring DIY music venue, Archie's Café starting at 8 PM. Come and dance!




Dr. Charles Joseph Smith is a pianist, composer, accompanist, writer, and dancer based in Chicago, Illinois. Dr. Smith has been a staple personality in the Chicago arts community for years. Among other works, he is currently publishing a multiple volume autobiography titled "I am Dr. Charles Joseph Smith," which details his experience in the arts as a person living with autism. For more information, visit thepianoforteandme and charlesjosephsmith.bandcamp.com.




The first image above are scans of research for this project; the second image is a photograph by Michael Gaylord James of Heartland Café in 1977, with text by Charles Joseph Smith; the third image is a photograph by Justin Goh at Mess Hall in 2008, with text by Charles Joseph Smith.

Heartland Cafe (PDF)
Mess Hall (PDF)


---
Anna Johnson et al.
MEMBRANE VARIATIONS
1224 W Loyola Ave, Chicago IL
August 9, 2023 - August 22, 2023

VARIATION I.
Sunday, August 13 at 8 PM
Performance by Anna Johnson, castroduperly, and Crystal Myslajek

An Idea Becomes Cloth, a Poetics of Curtains as Membranes and Membranes as Walls
Tuesday, August 15 at 8 PM
A lecture by Inés Arango-Guingue

VARIATION II.
Sunday, August 20 at 8 PM
Performance by Anna Johnson, Eric Capper and Zachary Nicol

VARIATION III.
Tuesday, August 22 at 8 PM
Performance by Anna Johnson





MEMBRANE VARIATIONS plays with the concept of the membrane – a protective, semipermeable layer between interior and exterior. Expanding outwards from the purely biological, it considers the membrane as a spatial, temporal, and existential phenomenon. This project features a series of nighttime activations incorporating live expanded cinema projection, sound performance, and movement. Activations occur on Sundays and Tuesdays at dusk, with doors at 8 PM. Other dates, the project is on view directly from the street after dark.

Anna and collaborators will perform creative variations devised and experienced through a process of site-responsivity and improvisation which aim to uncover and reveal material membranes latent within the unique architecture of Roman Susan and its surrounding area. Simultaneously, the collaborative nature of these performances explores the membrane as an inter-relational threshold between bodies, space and expression. In this space of symbiotic exchange, MEMBRANE VARIATIONS circulates around questions of (in)-betweenness.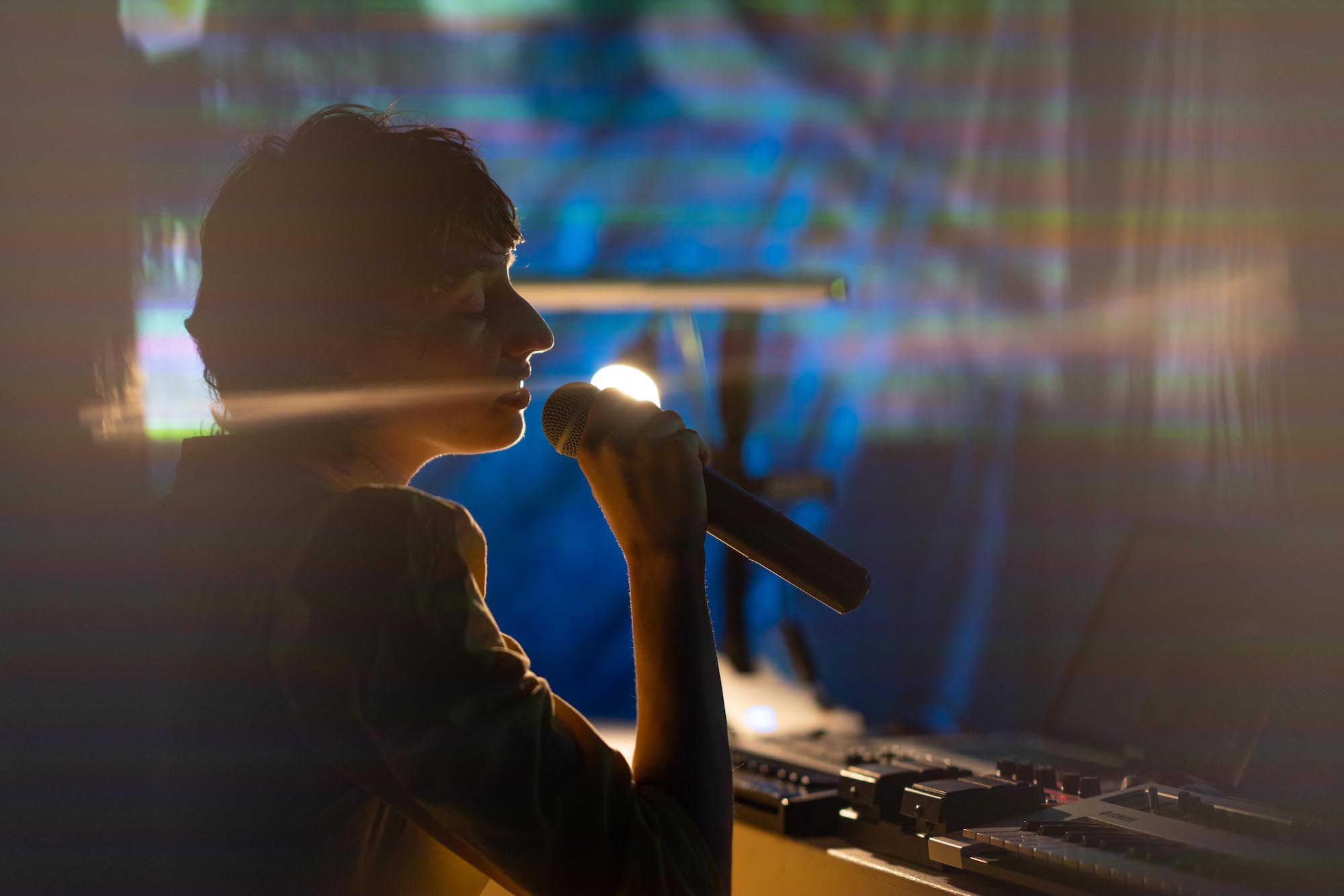 Anna Johnson is an experimental artist working at intersections of performance, sound/musical composition, cinematic moving image and sculptural installation. Her practice explores processes of transformation through emotional and psychological landscapes, made manifest and inhabited within one's body. She is based in Chicago, IL. More info at annajohnsonart.com.

Inés Arango-Guingue is a Chicago-based, Colombian independent curator, writer, and arts administrator with a focus on Latin American and Latinx contemporary art. She holds an M.A. in Arts Administration and Policy from the School of the Art Institute of Chicago and a B.F.A. in Art and Cultural Projects from Universidad de los Andes in Bogotá. More info at @inesarangog.

Eric Capper is a sound and sculpture artist, fabricator, and educator from Queens, NY. More info at ericcapper.com and @e___cap.

castroduperly AV artist and performer who understands video, voice, and written text as agents of execution (.exe). More info at castroduperly.com and @castroduperly.

Crystal Myslajek is a Minneapolis-based multi-instrumentalist, sound artist, and collaborator who explores deep listening, embodiment of sound, and connection through music. More info at circadiamusic.bandcamp.com and @cmyslajek.

Zachary Nicol is an artist and performer based in Chicago. Their interdisciplinary work uses research in dance, movement, site, and image to unfold problems of the performing body, and has been presented locally, nationally, and internationally. More info at @zxnicl.


---