Chloe Munkenbeck
Interior Motives
1224 W Loyola Ave, Chicago IL
September 11, 2022 - October 9, 2022

Hours Fridays and Sundays 4-7 PM, and by appointment

******* Boudoir noun /büːd.wa/

"The boudoir first appeared in the early 1700's as a term that referred to a distinctly female space. It had no specific program, but accommodated a variety of activities – reading, resting, bathing, dressing, intimate conversation, and, later during the libertine era, a place for clandestine meeting and sexual seduction."

– Anne Troutman, "The Modernist boudoir and the erotics of space," in Negotiating Domesticity




While the excess of a space exclusively dedicated to reflection, intellectual advancement, bathing and sexual fantasy is uncommon in modern architecture – I would certainly welcome its revival – the locked bathroom space supplants itself as today's boudoir. The most private of private space, its secluded spatial condition invites curious exploration, a close self examination of flattering/unflattering angles, and a space of solitary relief.

Interior Motives uses the hidden plumbing and objects of the domestic bathroom to reveal the unfulfilled, restrained, and hidden desires examined within. The pipe infrastructure is ever present yet largely invisible but for its orifices: the drain of a sink, the slow drip of a faucet, the spray of a shower head. The cold, tiled surroundings of the bathroom acts as a most trusted witness, containing these intimate acts in its walls and flushing them away, never to be seen again.

In a single architectural structure, all plumbing culminates to a single point of exit. Our most intimate, solitary acts, both the sensual and grotesque, mix and combine together with those of our neighbors before being released into the expansive public infrastructure. As the lowermost unit, Roman Susan is the first and last node for 1224 W Loyola Ave's intimate secretions, the neighbours' remnants running through the gallery space. Interior Motives intercepts this flow, exposing the surrounding innermost thoughts before they are ejected into the public realm.

– Chloe Munkenbeck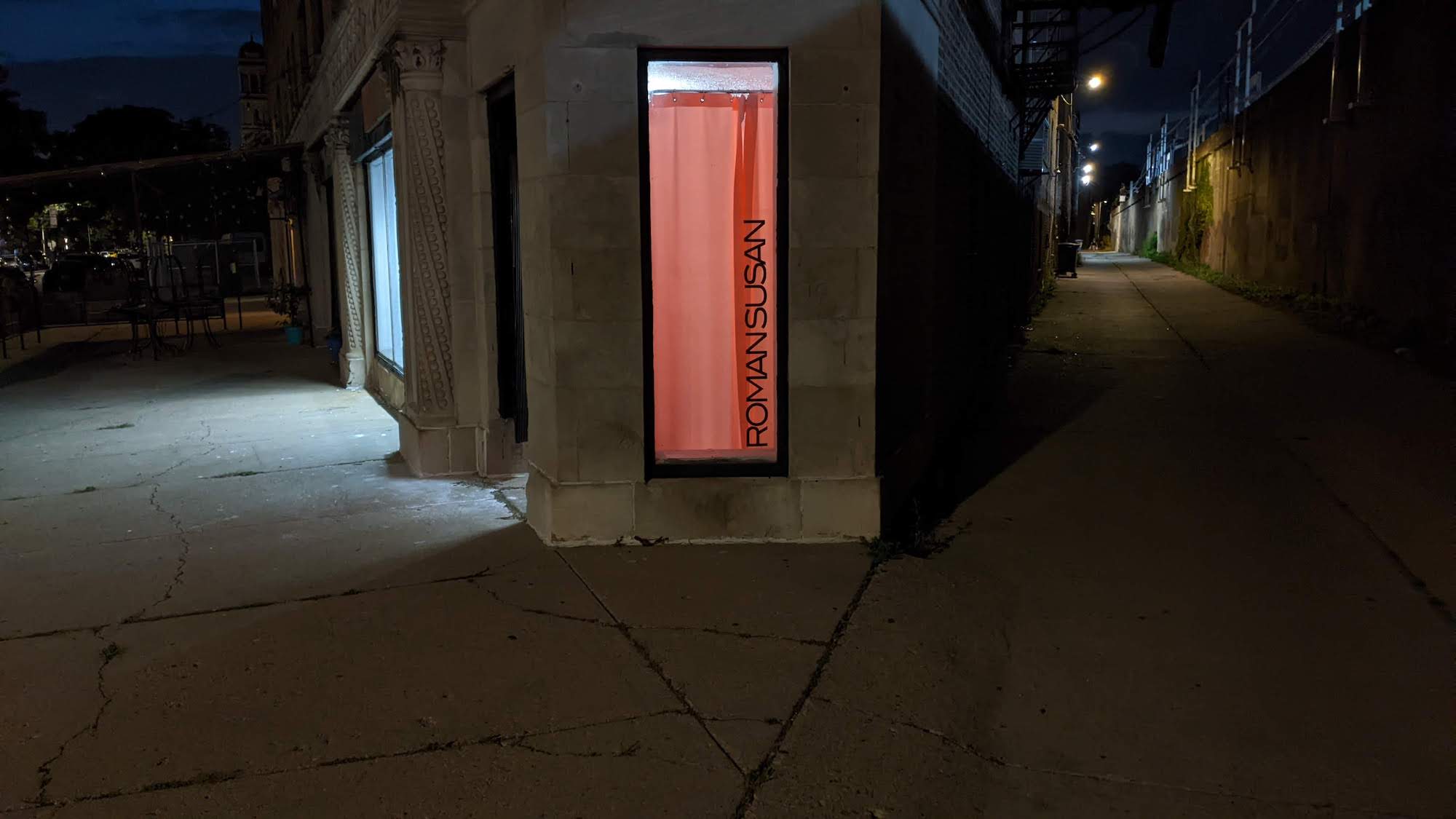 Chloe Munkenbeck is an artist and architect from London, UK. She graduated with an MFA from SAIC and lives and works in Chicago. She uses architectural structures as both metaphor and medium to unpack the idiosyncratic codes of conduct they arouse. For more information, please visit chloemunkenbeck.cargo.site.

Chicago Must See | ARTFORUM - September 14, 2022

Interior Motives Exhibition Guide (PDF)

The Basin Girl by Seda Öznal (PDF)


---
Kevin Norris
All Water Has a Perfect Memory
1224 W Loyola Ave, Chicago IL
August 26, 2022 - August 28, 2022

Performance Friday, August 26 at 6 PM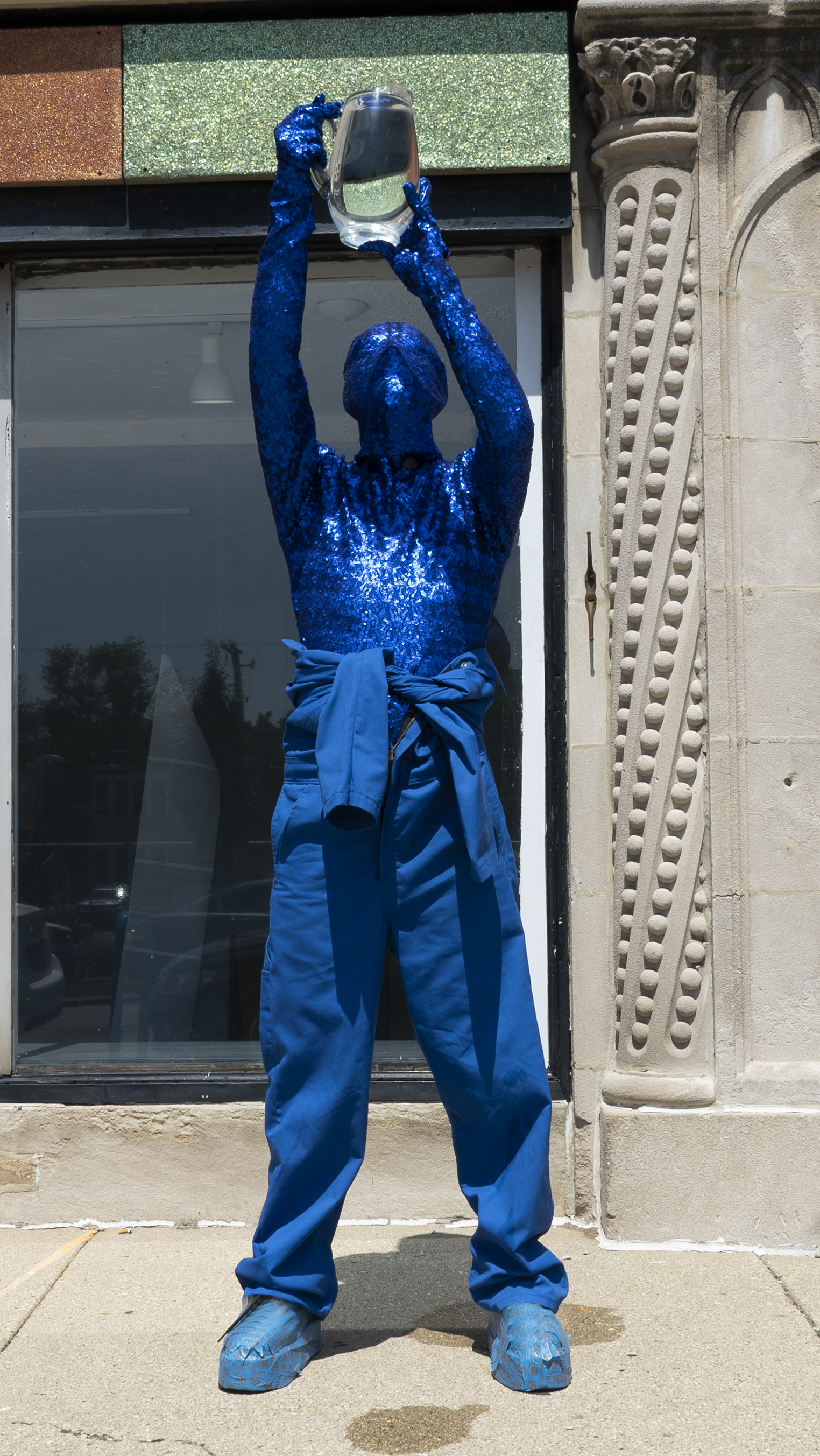 All Water Has a Perfect Memory is a collection of objects, offerings, and ephemera activated by performance. The color blue serves as the agent to bind a variety of disparate thoughts, memories, and materials. Three texts – A Field Guide to Getting Lost by Rebecca Solnit, Bluets by Maggie Nelson, and The Site of Memory by Toni Morrison – influence the thematic underpinning of the work.

The performance borders drama and ritual as performers enact a series of tasks and gestures to create an unstructured narrative. The color blue acts as a visual anchor – representing longing, desire, and transcendence – as well as a theoretical framework that establishes a structure to scaffold the ambiguity and fluidity of the narrative. Water carried from Lake Michigan to the space serves as an offering to the ritualized space created within the performance.

The temporal nature of performance lends itself to fleeting feelings associated with transcendence and the abyss. Each ephemeral object in the show references the immediate and transient recollection of thoughts and emotions tied to memory. Recurring questions that arise from the work are: Where does one go when lost? What might transcendence look like? And how can memory function, through storytelling, to create meaning?


---
Cherrie Yu
Trio A Translation Project
1224 W Loyola Ave, Chicago IL
August 4, 2022 - August 18, 2022

Join us for video installation of Trio A Translation Project by Cherrie Yu, featuring filmed performances Ignacio Morales, Enid Smith, Tony Rodriguez, Dongmei Wang, and Melinda Wilson. The opening date on August 4 shared a screening curated by Yu, featuring Home Exercises by Sarah Friedland, Grace by Li Chao Ping and Douglas Rosenberg, and Breathing House by Nao Yoshigai.




In summer 2020, I started translating Yvonne Rainer's 1965 dance Trio A with a series of individuals with different professions and backgrounds. The individuals each had a loved person transcribe the original dance into a written score, which we worked with to devise new movements. During the rehearsal process, each performer produced writings which became the voiceover to the movements. The project takes the form of a film essay.

— Cherrie Yu




Cherrie Yu is an artist born in Xi'an, China. Yu has shown work at Chicago Cultural Center, the Museum of Contemporary Photography, Links Hall and Mana Contemporary Chicago. She has been an artist in residence at ACRE, Contemporary Calgary Museum, and a visiting artist at Emory University. Her films have been screened at Satellite Art Show, Helena Anrather Gallery, Trestle Gallery and Virginia Commonwealth University. For more information, please visit cherrieyu.cargo.site.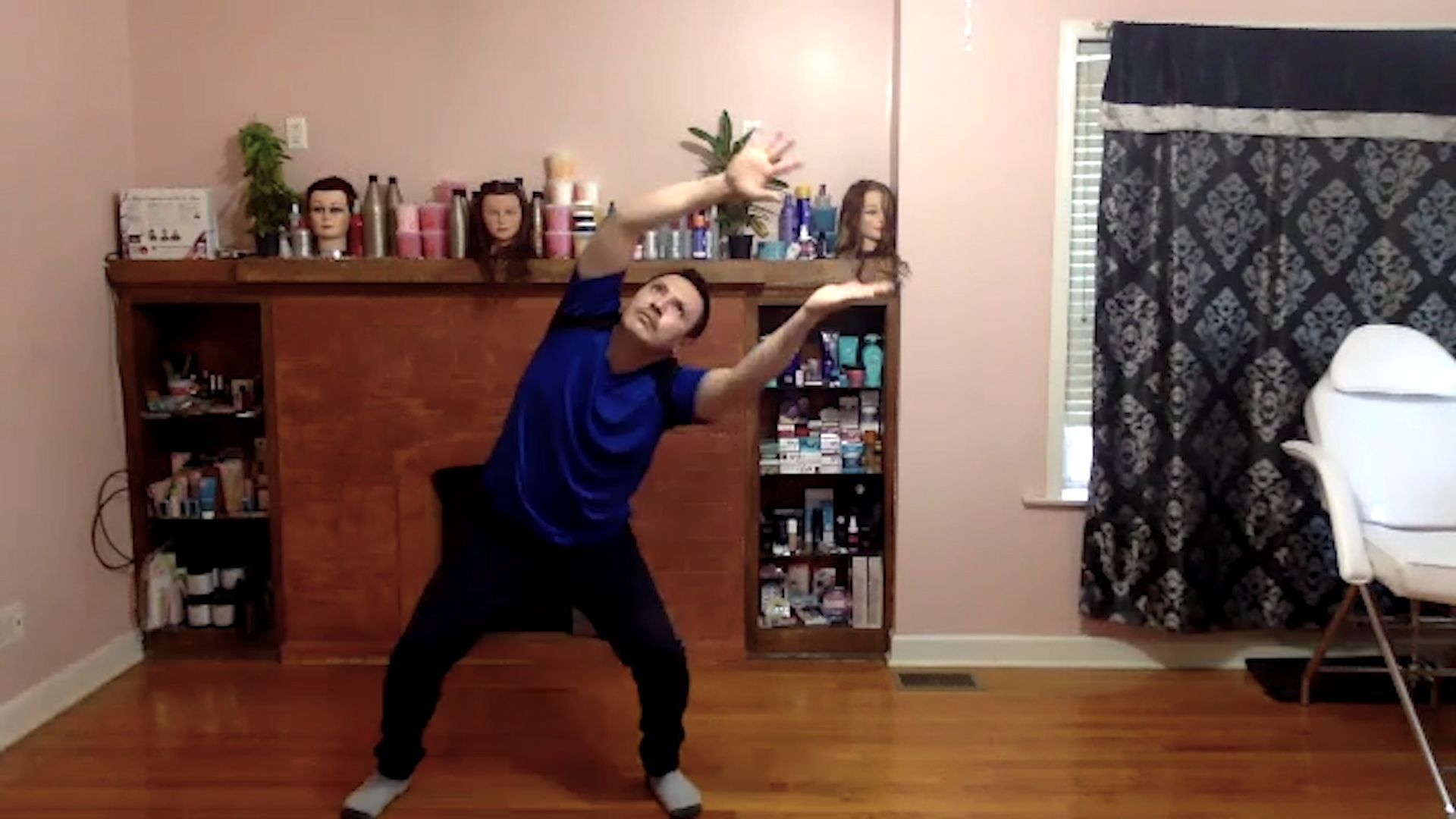 Trio A Translation Project screening program organized by Cherri Yu (pdf)

Nine Art Practitioners Interview Cherrie Yu about Translating Yvonne Rainer's Trio A | Performance Response Journal - July 17, 2021

---
Lauren Sudbrink
Courageously Easy & Obligingly Alone
1224 W Loyola Ave, Chicago IL
July 23, 2022 - July 31, 2022

Performances Saturday, July 23 at 3:30 PM
Screening Thursday, July 28 at 8 PM

Courageously Easy & Obligingly Alone is a performative installation in several parts, stemming from Sudbrink's larger work "840 Variations on Vexations," a project which presents conceptual, poetic responses to duration, endurance, labor, and artistic interpretation, providing possibilities and inspirations for artists and musicians considering their own roles in labor and the re-inscription of the creative process.

With much of our day-to-day returning to a new normal we find ourselves in a state of post pandemic joy-seeking – overcompensating for the months of restriction – and now looking for playful, collaborative outlets for our energies. Using a selection of new graphic scores – inspired by Satie's Vexations – a series of individual performers will interpret the scores in the orchestra pit of Roman Susan. Their playful and unscripted performances will rejuvenate the score to Vexations, while also encouraging visitors to consider their role as audience and participant.




The opening on Saturday, July 23 features live performances by local artists Sonya Bogdanova, Mariel Harari, Anna Johnson, Jordan Knecht, and Breanne Trammell. A screening on Thursday, July 28 features recorded performances by artists Liz Cambron, Greg Ruffing, Rory Torstensson, Aaron Walker, and Loraine Wible. In between performances, Roman Susan hosts graphic scores and objects that are part of the "840 Variations on Vexations" series. Guests are welcome to interpret the scores during their visits.

Lauren Sudbrink is an artist living and working in Chicago. Recent and ongoing works deal with the transactional nature of experience, examining the potentials and difficulties inherent in participation and play, as evidenced by her ongoing series on 19th Century composer, Erik Satie's "Vexations," titled "840 Variations on Vexations." This question of participation and experience has been particularly significant as we navigate the daily challenges of the social and our shared experiences. For more information, please visit laurencsudbrink.com.


---
Watchtower
1224 W Loyola Ave, Chicago IL

Performance Saturday, July 16 at 4 PM

We move and use the body in alternative ways in order to challenge its domestication. We inhabit socially abnormal behaviors, for example the body as animal, aging, multi-gendered, deformed and full of contradictions. We act in good faith with each other, creating space for each person to be recognized equally and this practice is healing. Our work is responsive rather than scripted. The performance we pioneer must carry in its root, shoot and flower the revolutionary priorities of people, place, and taking time.




Watchtower is a collaborative performance ensemble comprised of Rosé Hernandez, Ginger Krebs, Bryan Saner, Aurora Tabar and Sara Zalek. United by their desire to realize a fully collaborative and democratic creative process, the group met regularly from 2011 through 2012. Their work culminated in the performance video, Watchtower 12-12-12, which was performed, filmed and presented within one week at New Capital Projects. After a ten year hiatus, the members of Watchtower reunite for a one-week residency at Roman Susan, and will share their findings during a public performance offering on Saturday, July 16 at 4pm.

Rosé Hernandez is a Chicago-based artist, curator, director, and healing arts practitioner performing through practices of butoh, theater, music, ritual, and reiki. Rosé attended the School of the Art Institute of Chicago. They were awarded residencies at Links Hall, ACRE, and were a sponsored artist at High Concept Laboratories. They are the co-founder of Burning Orchid, a performance collective and production company. They have presented work in Chicago at Defibrillator Performance Art Gallery, The Museum of Contemporary Art Chicago, The Chicago Cultural Center, S+S Project, Sullivan Galleries, Aldo Castillo Gallery, Western Exhibitions and New Capital. They have also exhibited work at JACK (NYC), The Judson Church (NYC), El Museo de la Ciudad (CDMX), X Annual Performance Biennale (Russia), Oliver Francis Gallery (Dallas), MOCA (Los Angeles), Human Resources (Los Angeles), Aux Performance Space (Philadelphia), and Little Berlin (Philadelphia). For more info, please visit theenergeticbody.org.

Ginger Krebs's performance work has been presented recently in Chicago at The Arts Club of Chicago, the Chicago Artists Coalition, the Storefront Theater, the Hyde Park Art Center, and the Museum of Contemporary Art Chicago, and as part of the IN>TIME festival. She has been awarded residencies at The Bogliasco Foundation in Genoa, Italy, the Maggie Allesee National Center for Choreography (MANCC) at the Florida State University-Tallahassee, the National Center for Choreography – Akron, High Concept Labs, The Chicago Artists Coalition, MacDowell, Ucross, and Djerassi. She was recognized with Artist Fellowship Award in Performance-Based Arts by the Illinois Arts Council in 2019, a MAP Fund grant in 2015, and a Chicago Dancemakers Forum Lab Artist Award in 2014. She is an Adjunct Associate Professor in Performance and Contemporary Practices at The School of the Art Institute of Chicago, where she has taught since 2004. For more info, please visit gingerkrebs.com.

Bryan Saner is an interdisciplinary art practitioner focusing on the creation of performances, activist art events, neighborhood evolution and appropriately designed objects. He is a founding member of Bluestem Building and Restoration, a worker owned coop of makers and craftspeople working with architecture, urban forest wood and furniture. He is a rehearsal coach for residents at Links Hall. From 1995 to 2009 Bryan worked as a performing artist with the Goat Island Performance Group. During this time, the company toured internationally, performing at venues including the Venice Biennale, Bristol's Arnolfini Theatre, the Eurokaz festival in Zagreb and the New Territories Festival, Glasgow. He is currently performing with Every House Has a Door. He is making a kayak with Erica Mott, Precious Jennings and Jose Aguilar.

Aurora Tabar is a Chicago-based performing artist, occupational therapist, and toddler-wrangling mom. Her professional and creative practices examine the process of healing and the potential for transformation. Recently, Aurora had the pleasure of performing in Freedom From Freedom To, an improvised movement and sound series curated by Cristal Sabbagh and presented by Elastic Arts Foundation and the Museum of Contemporary Art Chicago. Aurora's ongoing project, The Existential Coat Check, is an interactive popup booth that invites participants to shed their psychic baggage via writing and drawing activities. She presented a solo project Tiny Vibrating Strings at the Curious Theater Branch's 2020 Rhino Festival. Shortly afterwards, and under COVID lockdown restrictions, Aurora gave birth to her son Arden, embarking on her favorite project yet! For more info, please visit auroratabar.com.

Sara Zalek is an interdisciplinary artist, Avant-garde maker of situations and curious objects. Rooted in physical investigations of trauma, resilience, and transformation, their work is intimate, raw, poetic. They create learning situations, workshops, and sensing environments to encourage thoughtful interpersonal connections. Zalek performs often in both live and online situations; they most recently took residence at Elastic Arts Foundation with their ongoing quarterly series, Hot Mess! Through Butoh Chicago, they connect national and international teaching artists with Chicago art makers across genres in the independent and fringe arenas. They were a Ragdale Foundation Fellow in 2018, recipient of 3Arts Make a Wave Award in 2017, and Chicago Dancemakers Forum Lab Artist in 2015. They have performed and curated at the Chicago Cultural Center, Elastic Arts, Experimental Sound Studio, Links Hall, Chicago Architecture Biennale, Defibrillator Gallery, El Museo de la Ciudad, Elevate Chicago Dance, Lumpen Radio, OuterSounds, OuterSpace Studios, Headwaters, and more. They are an active board member of the Runaways Lab Theater. For more info, please visit saratonin.com.


---