Julia Klein
Procession
1224 W Loyola Ave, Chicago IL
May 5, 2023 - June 11, 2023

Process On view from the street 24/7
Open Hours Saturdays and Sundays 4-7 PM




For the run of Procession, Julia Klein will be in residence at Roman Susan, working improvisationally in relation to the specific features of the space: its triangular shape; large, street-facing plate glass windows; narrow, alley-facing vertical side window; two sets of stairs; lower-than street level main space; front ledge/platform; four doors; pipes; residual anchors, screws, and layers of paint from previous shows. A succession of objects and structures imported from Klein's studio will travel along the interior ledge in front of the windows in quasi-performance for passersby, continuously emerging from and falling back into the storefront gallery. With attunement to the fluidity between sculptural interdependence and autonomy, Klein will activate this larger space, complicating the notion of orderly, forward movement as she constructs an environment through and for the production of new material relationships and documentation.




Julia Klein is a Chicago-based artist whose work explores the mobility and continuity of objects in time and space through the processing of materials. She has presented work locally and nationally, most recently at Chicago Artists Coalition, Hyde Park Art Center, and Weinberg Newton (Chicago). Klein has also participated in a number of fellowships and residencies, including the Chicago Artists Coalition HATCH Residency, Chicago Jewish Artists Fellowship, and the Terra Foundation Summer Residency in Giverny. She received a BFA from the University of Michigan and a MFA from Bard College. Since 2009 Klein has run Soberscove Press, an independent publisher of books about art and culture.

First image: Julia Klein in the studio, photo by Li-Ming Hu; second image: studio view, photo by Mark Ballog; home page: installation view at Roman Susan.

The project was discussed in a public a conversation between Klein and José Santiago Pérez on May 21, 2023.

Between Public and Private | Newcity - May 18, 2023


---
Peter Ronan and Cassie Tompkins
Pink Moon
1224 W Loyola Ave, Chicago IL
April 1, 2023 - April 30, 2023

Open Thursdays 4-7 PM, Saturdays 1-4 PM, and by appointment
Market Saturday, April 29 from 1-4 PM

I saw it written and I saw it say
A pink moon is on its way
And none of you stand so tall
Pink moon gonna get ye all

–– Nick Drake, Pink Moon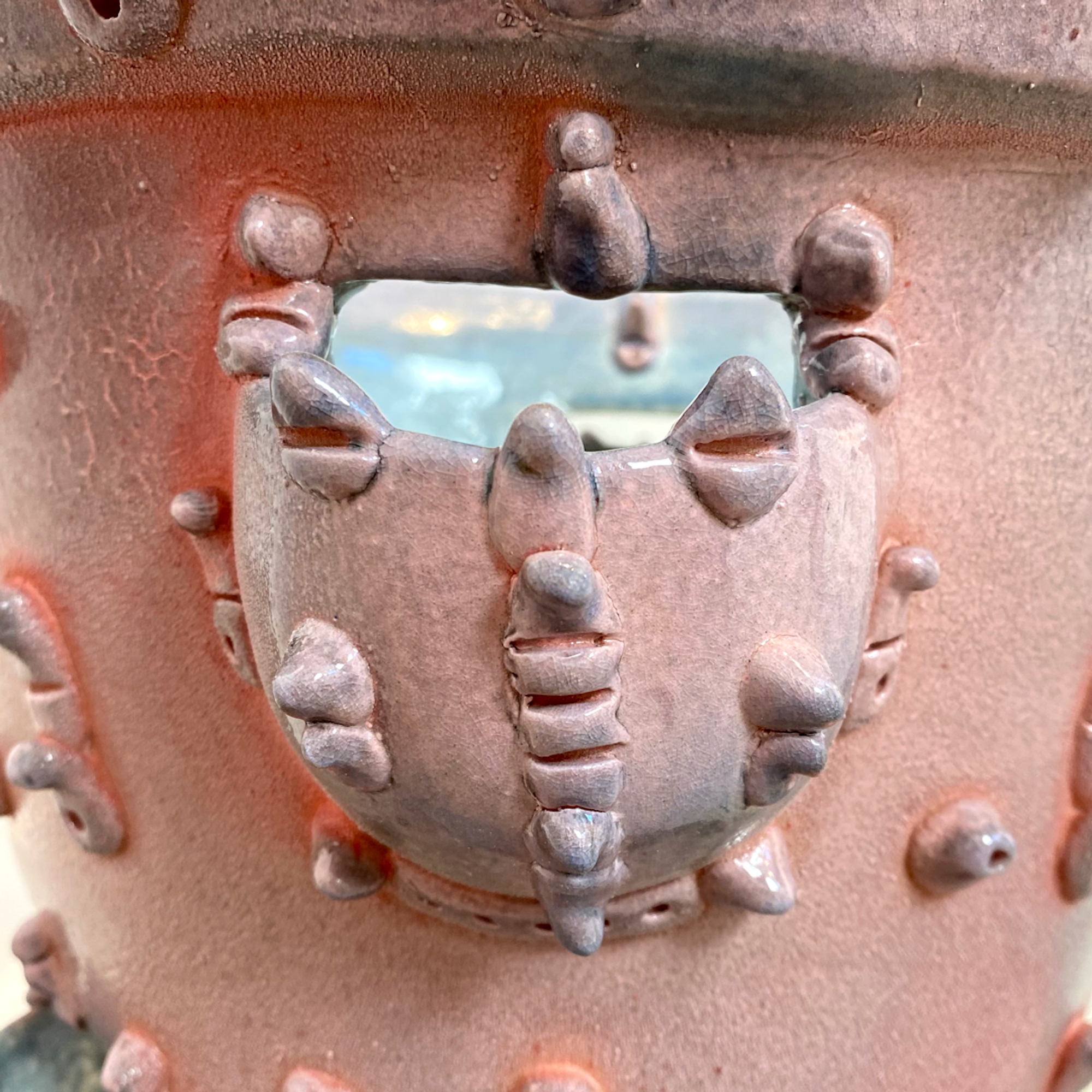 We bear witness to the cyclical nature of life when the full moon rises in spring, shining down on us from the heavens. Named by indigenous Americans after the native phlox — one of the earliest widespread flowers of spring — the "Pink Moon" exerts a strong gravitational pull. Upsetting the tide and provoking tectonic activity, it signifies metamorphosis, reminding us that awkward transitions and warmer days are ahead. Like the wild phlox, we emerge hairy and sticky from the cold, creeping around the ground in search of bittersweet gifts from the season. Our queer leaves sprout, pushing and nudging through frozen ground, climbing toward a beaming light. Rolling around in fresh grass and dewy, dark soil, we search for the first fruits—tart, pink-green strawberries devoured before they're snatched up by hungry birds and small mammals. We are greedy with optimism for the coming season but remain cautious lest we are tempted by rhubarb's sour stalks and poisonous leaves.

The work in this exhibition is about rebirth and renewal. The processes — literal and fantastical — can be messy and imperfect. Forms and colors are built from clay, fiber, insects, plants, and minerals. Their serendipitous conclusions are the results of bodily gestures and visceral reactions. Peter Ronan and Cassie Tompkins found themselves fumbling out of the fog of anxiety and grief of 2020 into the natural world. The activity of gardening became a source of calm and inspiration to their art practices. Tompkins spent the spring and summer of 2021 and 2022 nurturing vegetable and native prairie gardens. She uses natural dyes derived from plants, insects, and minerals to alter silk fabric. The resulting imagery is fluid and sensitive to the elements. The inclusion of rust acts as a modifier, shifting the dye colors and threatening to corrode the delicate fabric. Her ceramic work began as an exploration of shape and transformed into vessels symbolizing the experience of loss and grief. Ronan made dozens of fantastical ceramic vessels to hold his ever-growing collection of plants. The objects flaunt pleasure and decadence, living in an emotional, physical, spiritual, and metaphysical realm. They satisfy the desire for sensory overload and to defy categorization. The functional pots and lidded boxes embody "otherness"— queer and highly decorative, they transgress binaries.




Peter Ronan is a Chicago-based artist who grew up between Idaho and Washington. He was an artist in residence at Lillstreet Art Center from 2019–20, where he currently teaches and houses his studio. He received the 2018–19 Anonymous Studio Residency at the Northern Clay Center and earned a BFA with a concentration in ceramics from Boise State University in 2015. Following his undergraduate studies he moved to Philadelphia and interned at The Clay Studio, where he ascended to the work exchange program, and was then promoted to education assistant. A fabulous butch queen, he makes work that is focused on the queer experience. While living and working in Minnesota and Chicago his practice became more openly homoerotic and it continues to evolve in this direction. For more information, please visit tripcrystalceramics.com.

Cassie Tompkins is a Chicago-based multidisciplinary artist currently working with printmaking, textiles, and ceramics. In 2001 she graduated with a BFA in photography from the Milwaukee Institute of Art & Design and in 2010 received a BFA with a concentration in visual communication design from the School of the Art Institute of Chicago. Tompkins's work explores transcendent environments and reinterprets ephemeral experiences. She was the Lillstreet Art Center's artist-in-residence in Textiles from 2019–21. In 2018 she was an award recipient of the Cleve Carney Art Gallery's One: Annual Emerging Artist exhibition and an open studio resident at Haystack Mountain School of Crafts, Deer Isle, ME. She completed the inaugural FIELD/WORK Residency at the Chicago Artist Coalition and attended ACRE residency in Steuben, WI in 2017. She has exhibited throughout the Chicago area at Mana Contemporary Chicago, the Comfort Station, the Annex Gallery at Spudnik Press, Lillstreet Art Center, ACRE Projects, Cleve Carney Art Gallery, and Co-Prosperity Sphere. For more information, please visit cassietompkins.com.

Pink Moon Exhibition Guide (PDF)

Pink Moon on display at Roman Susan | Loyola Phoenix - April 5, 2023


---
Eliza Fernand
NATR-XXX
1224 W Loyola Ave, Chicago IL
February 14, 2023 - March 18, 2023

Hotline toll-free 24/7 at 1-833-NATR-XXX





NATR-XXX

is a storefront iteration of

Erotic Experiences with the Natural World for a Person at Home Alone

by Eliza Fernand, a series of narrated audio works:

Houseplant Intimacy

;

Fooling Around with Air

; and

For a Person with Running Water

. These works are multi-sited and accessible through the link above, as a printed zine, and a toll-free hotline. The hotline is live – you should call right now:

1-833-NATR-XXX

After the launch of the hotline in 2020, the phone number is being distributed in public through posters and tagging in cities across the U.S. and Canada. Fernand created "commercials" for the hotline, riffing on promotions for anti-depressants, phone sex lines, and miracle products. Roman Susan is grateful to host a new display of these messages through nightly projections to conclude Winter 2023. Click below to experience the commercials at home, and visit the age-restricted

Hotline Commercial (sex line version)

on YouTube, because it's too hot to embed 🔥



This body of work will be expanded in 2023, moving out into the streets of Rogers Park as a part of Navigations, artist projects shared and realized in public/common space. New elements are being added to the hotline – join us for the closing celebration on March 18 to experience site-responsive intimacy with our neighborhood.




Eliza Fernand is an artist and educator who works primarily with video, sound, fabric, and clay. With a BFA in Sculpture from Pacific Northwest College of Art, and an MFA in Interdisciplinary Arts from Sierra Nevada University, they have led a cross-country career, attending over a dozen artist residencies and exhibiting internationally. A new citizen of Chicago, she continues to pursue artmaking and teaching opportunities, with the aim of provoking acceptance of loving practices outside of the norm, and promoting experimentation on all levels. For more information, please visit elizafernand.com.

A rock walk for someone at a Chicago storefront (PDF)

Eliza Fernand "NATR-XXX" at Roman Susan | Chicago Artist Writers - March 14, 2023


---
Dalila Sanabria
Without Rise
1224 W Loyola Ave, Chicago IL
December 1, 2022 - January 6, 2023




Without Rise at Roman Susan will conclude with our first event of 2023, an exchange and celebration with the artist on Friday, January 6. Come and partake. Te invitamos al cierre de nuestra exhibición Without Rise, una muestra artística de la cultura del pán de Chile. Everything must go! Agradecemos y aceptamos su donación voluntaria.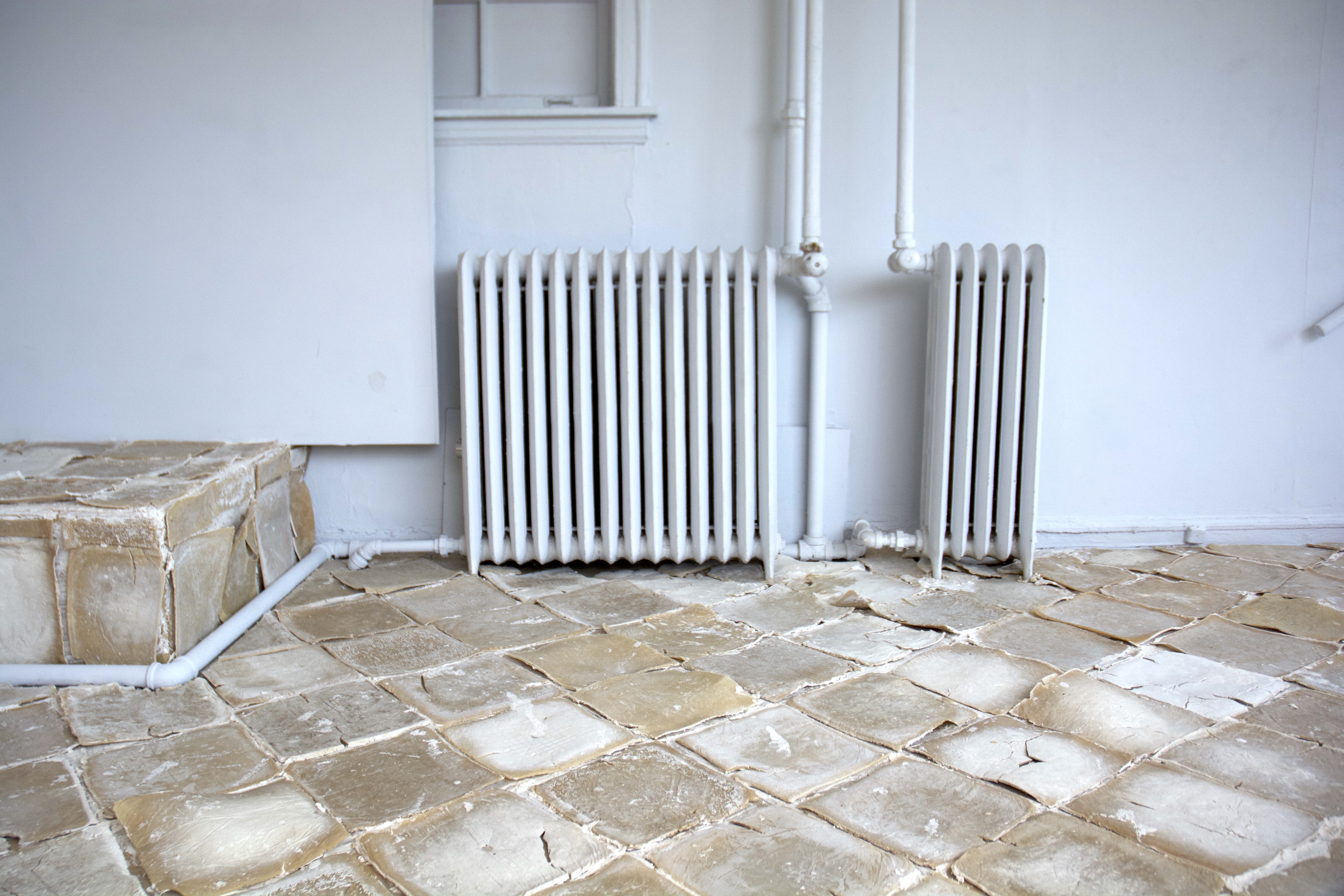 Dalila Sanabria is an interdisciplinary artist from central Florida sharing dual nationality with Colombia and Chile. Working primarily with sculpture and video installation, Sanabria attempts to memorialize absence and sites of security through acts of accumulation and removal. Her use of organic materials remains as significant as her cross-cultural identity, often working with flour, salt, coffee and mud as catalysts for exploring notions of displacement, permanence, brownness and belonging.




Sanabria has received a BFA in Art and BA in Portuguese Studies from Brigham Young University. She has exhibited nationally and internationally, with recent exhibitions at Tiger Strikes Asteroid Gallery in Philadelphia, PA, QUAID Gallery in Tampa, FL, the Contemporary Arts Center New Orleans, the Czong Institute of Contemporary Art Museum in South Korea, and the Rio Gallery in Salt Lake City, UT. She has been written about in Art in America, SaltLakeUnderGround Magazine, Terremoto Magazine and Creative Loafing Tampa Bay. She has also received numerous awards and grants that have allowed her to perform projects in locations such as Brazil, Colombia, Chile and Germany. Sanabria is currently an MFA candidate in the Sculpture Department at Cranbrook Academy of Art, slated for graduation in 2023. For more information, please visit dalilasanabria.com.


---
Anna Martine Whitehead
Notes on Territory: Meditation
1224 W Loyola Ave, Chicago IL
October 29, 2022 - November 20, 2022

In 1835, Harriet Jacobs left the swamp she'd been hiding in and slipped into the crawlspace above her grandma's house, where she stayed for 7 years. As a fugitive from slavery, she was unable to leave – even to exercise or use the bathroom – and her light was provided by a small peephole, through which she watched her two little children (unbeknownst to them). She called this dark, solitary, cramped, and hidden place her "loophole of retreat." It was her own private territory, the liminal non-space that changed her body and her life en route to liberation.

Harriet left us an autobiography that we still use today to understand antebellum life for a fugitive Black woman and mother. Notes on Territory: Meditation similarly invites participants into a space of freedom dreams and study. Using wood from Chicago's Lathrop Homes projects and built to the same dimensions as Harriet's garret – which, ironically or not, is almost the same dimensions as the average U.S. prison cell, except in height – the central piece is both a resting site and a non-circulating library. In her collage work, Whitehead explodes writing generated inside prison by Jimmy Carr and Assata Shakur alongside graphical representations of the Cape Coast slave castle. Sound made in collaboration with Sofía Córdova emanates throughout the space to create a sonic atmosphere of containment and possibility.

Who is here with us? What can we learn? How can we rest? How do we prepare?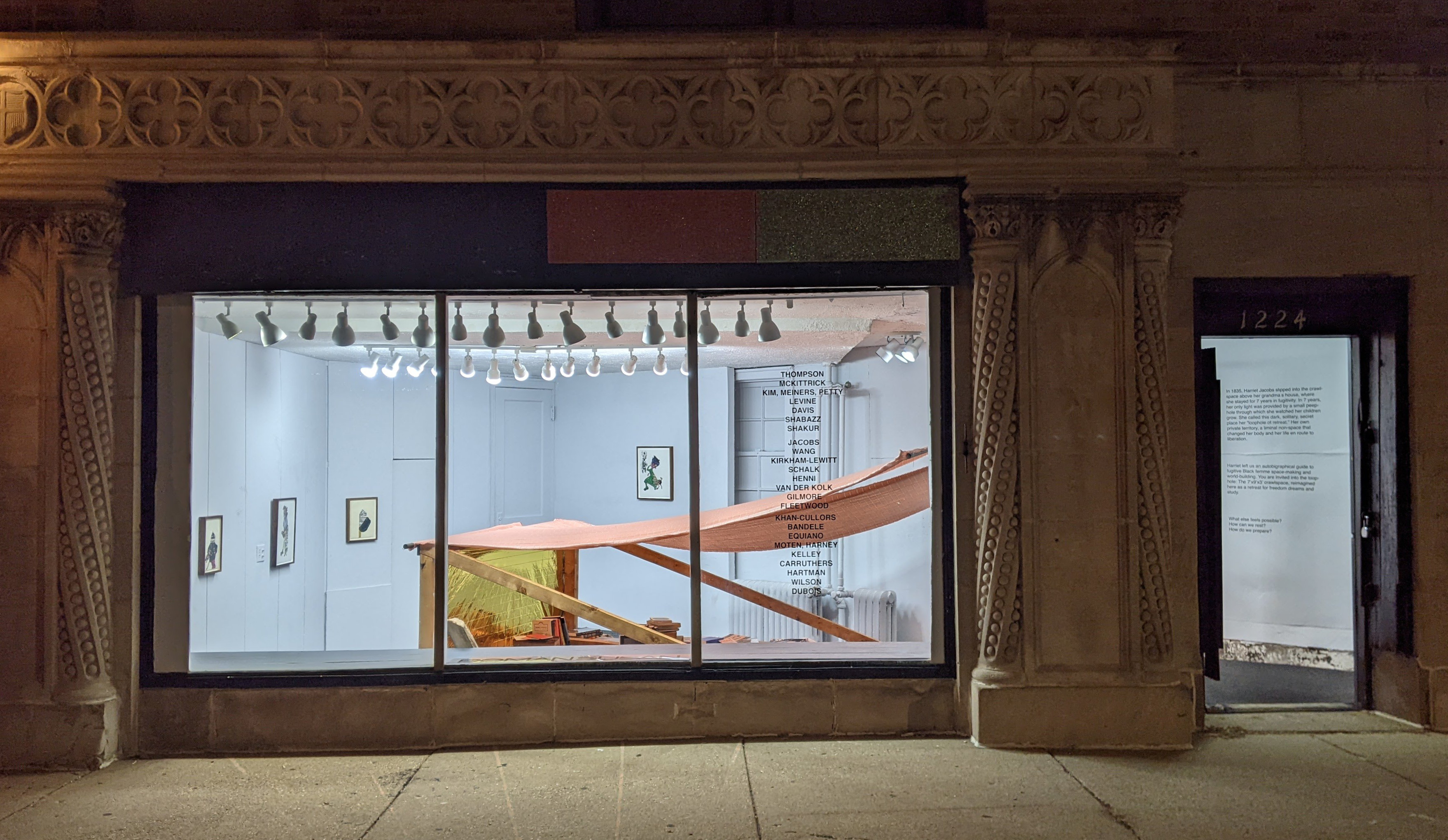 Anna Martine Whitehead is a queer Black and brown artist doing performance from the homelands of the Council of the Three Fires: The Odawa, Ojibwe and Bodéwadmiakiwen (Potawatomi) Nations; as well as the Miami, Ho-Chunk, Sauk and Meskwaki; the Kiikaapoi, Peoria, and the Očeti Šakówiŋ (Sioux) Nations. For more information, please visit annamartine.com.

Made in collaboration with Sofía Córdova, Bryan Saner, Giau Truong, Emily Winter and The Weaving Mill, and Harriet Jacobs. The opening date featured a sound performance and intention-setting with Lynn Hunter. On November 10, the space was activated by a performance created with Jay Carlon. Notes on Territory: Meditation has been supported with a grant from the Graham Foundation for Advanced Studies in the Fine Arts, and was previously exhibited at SITE/less.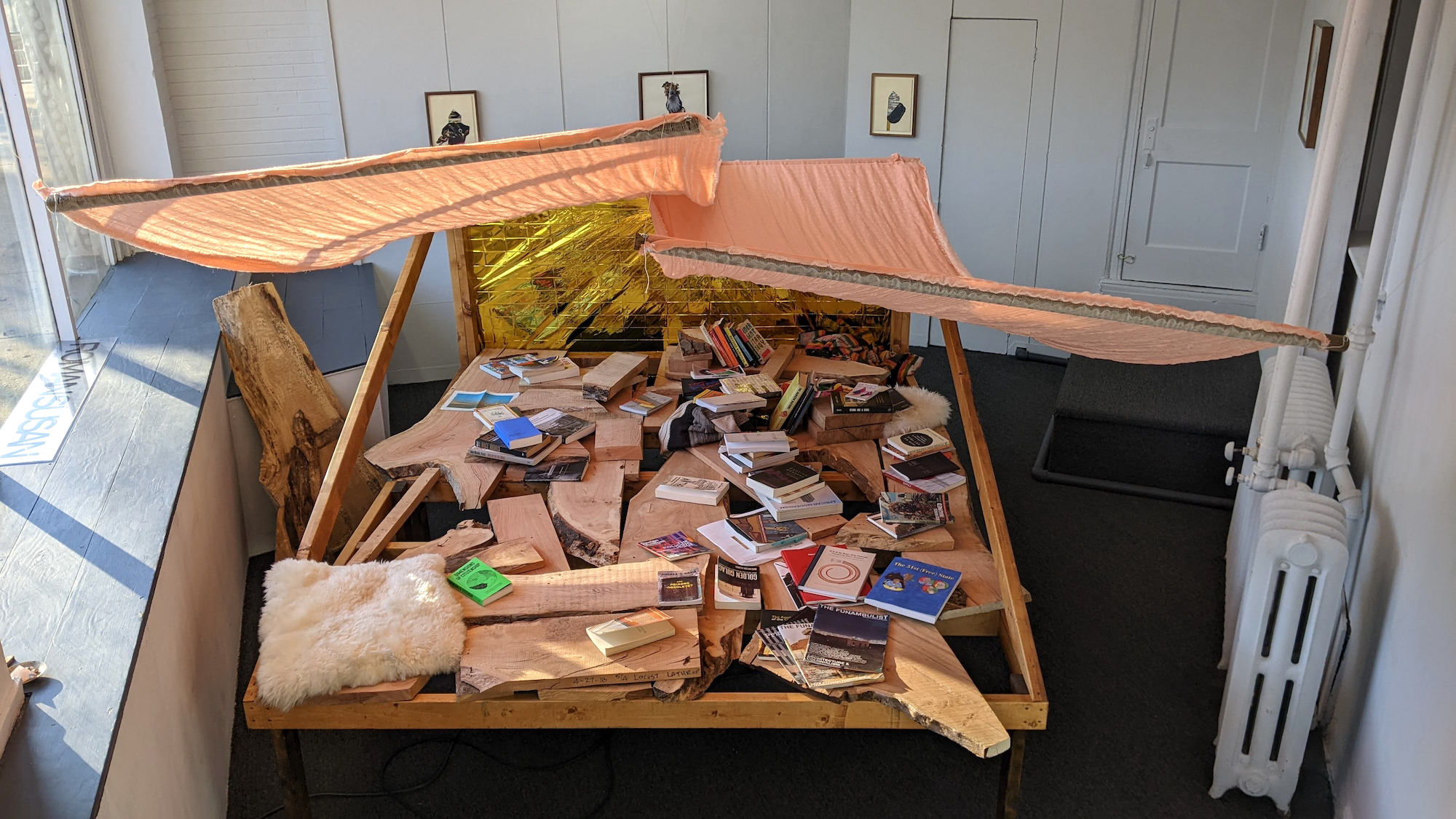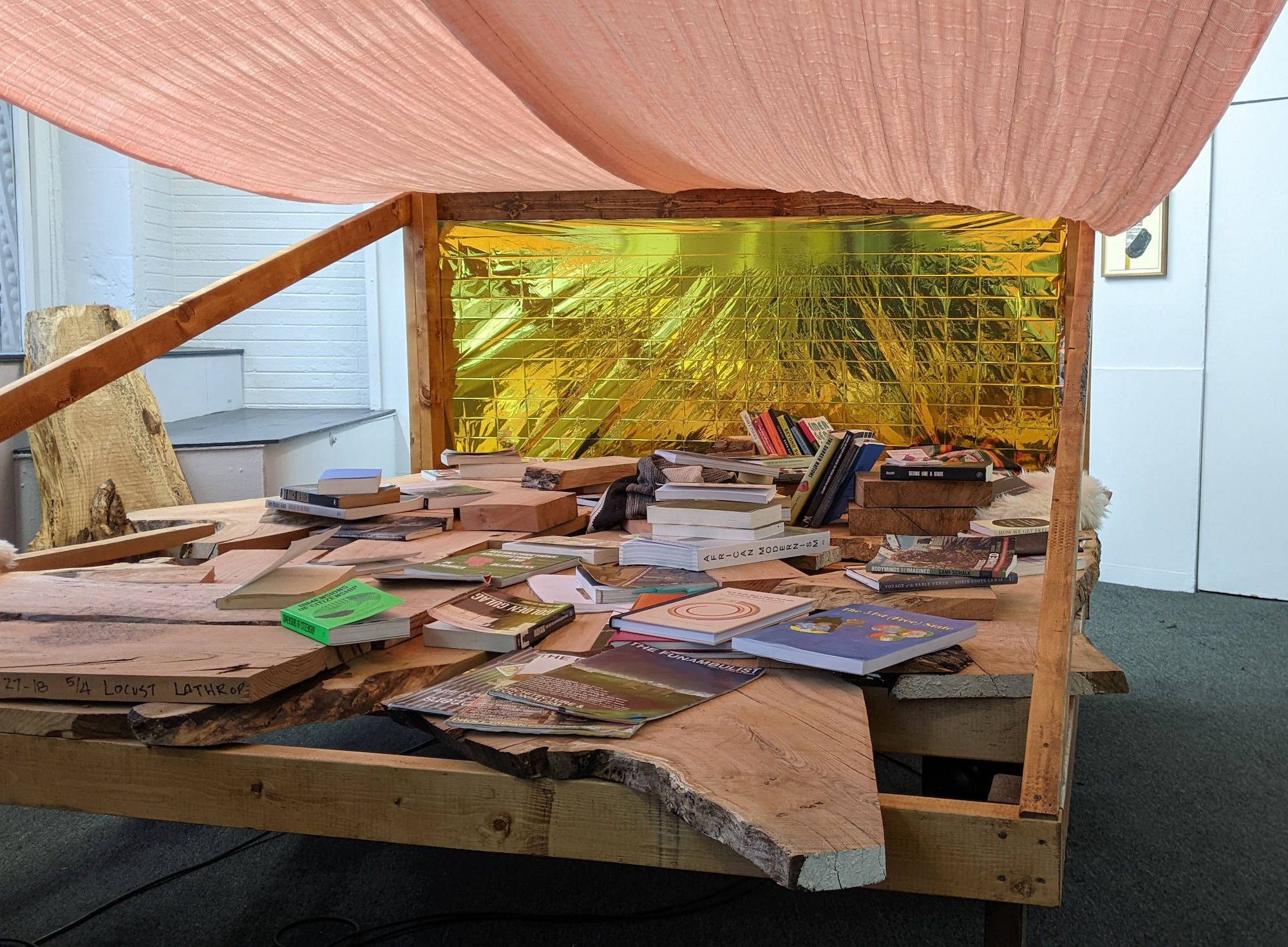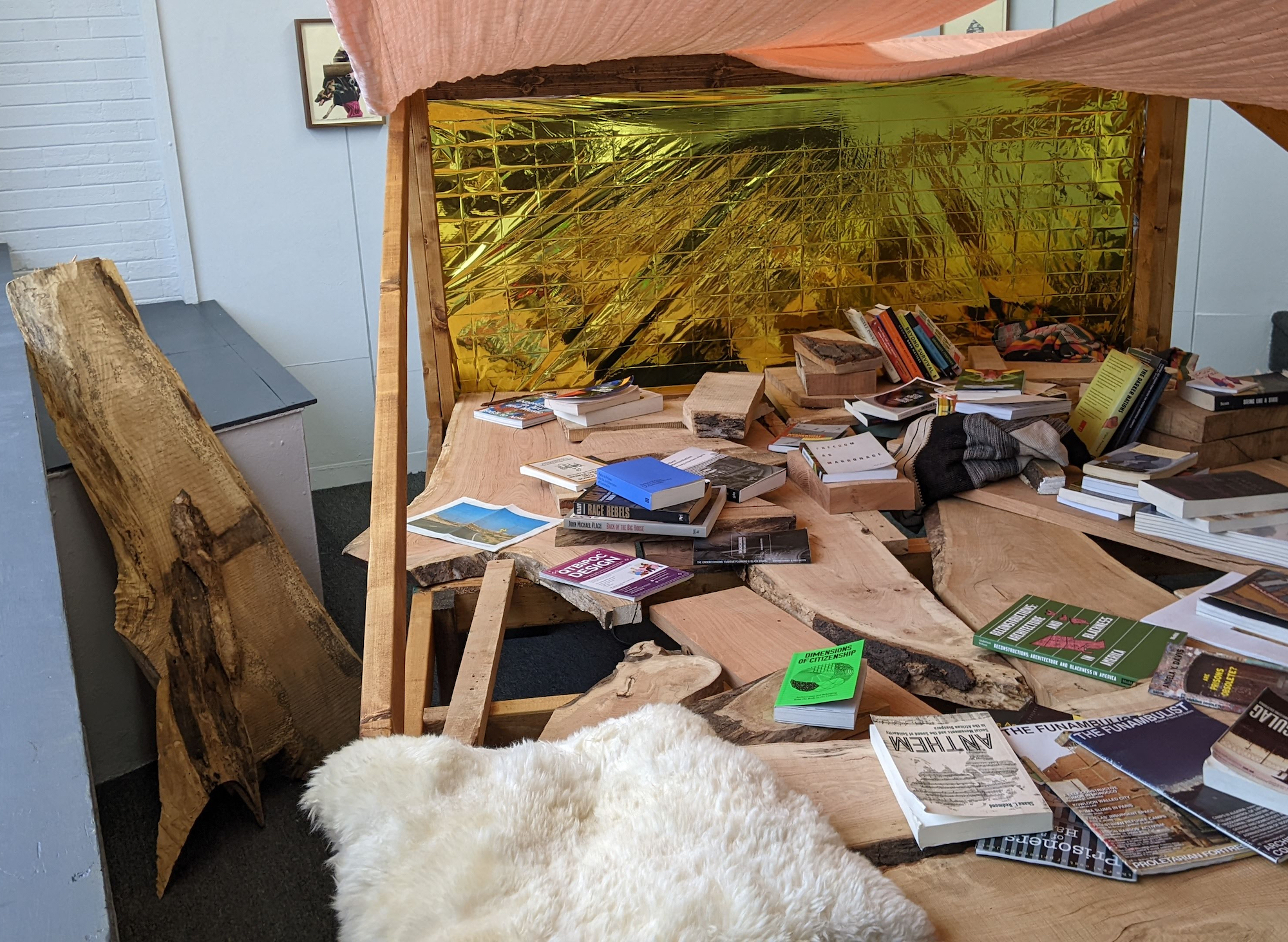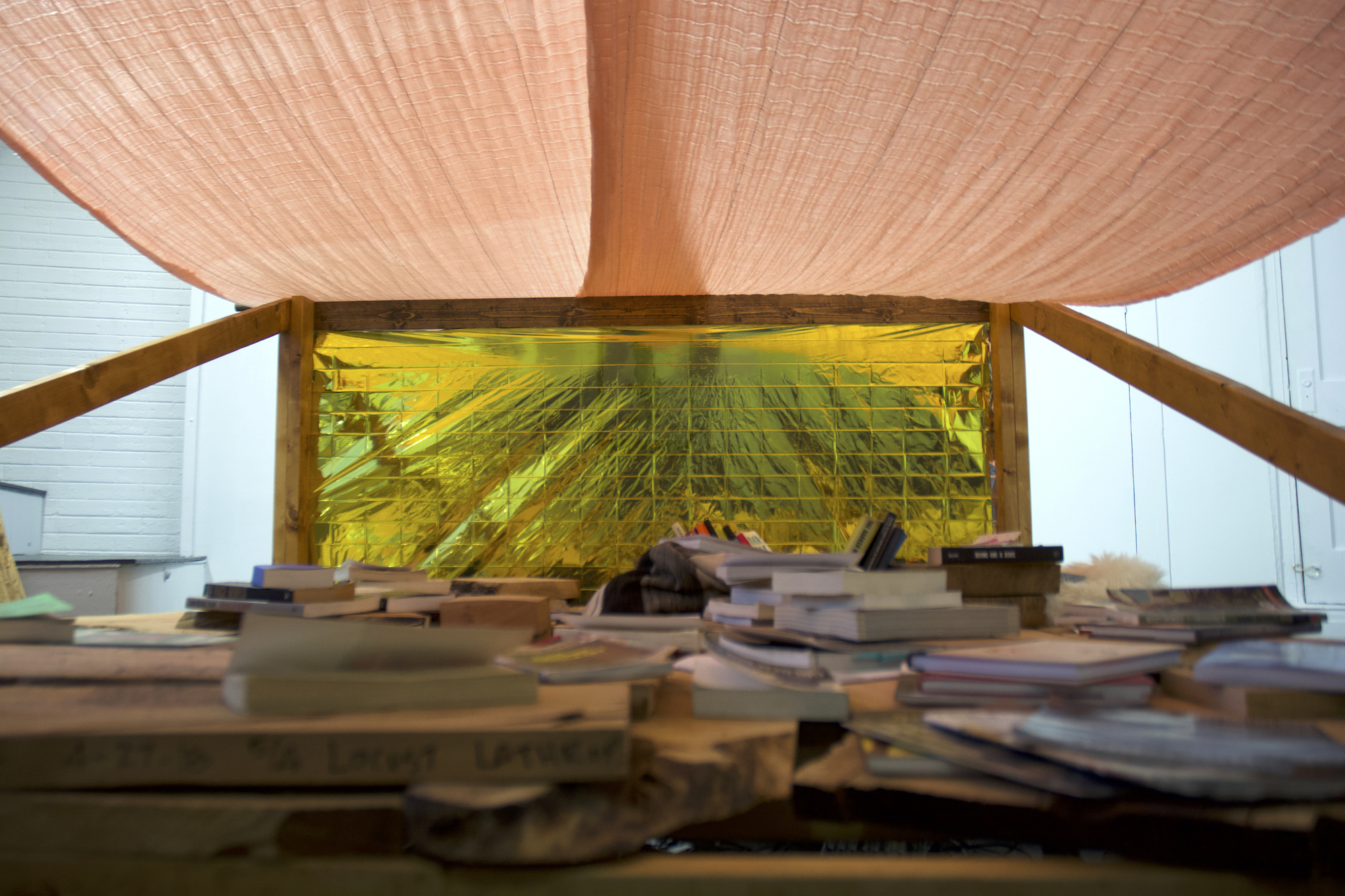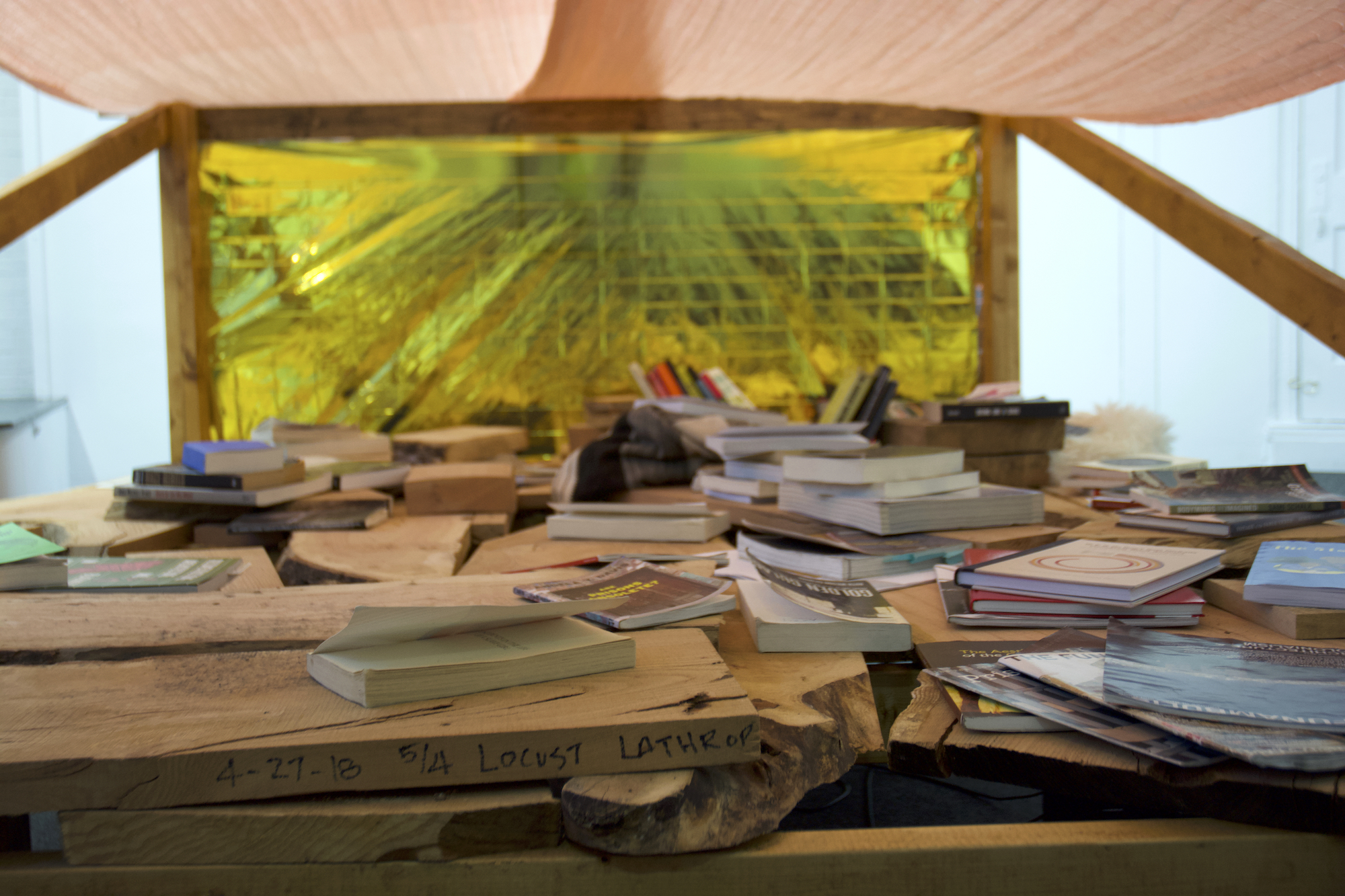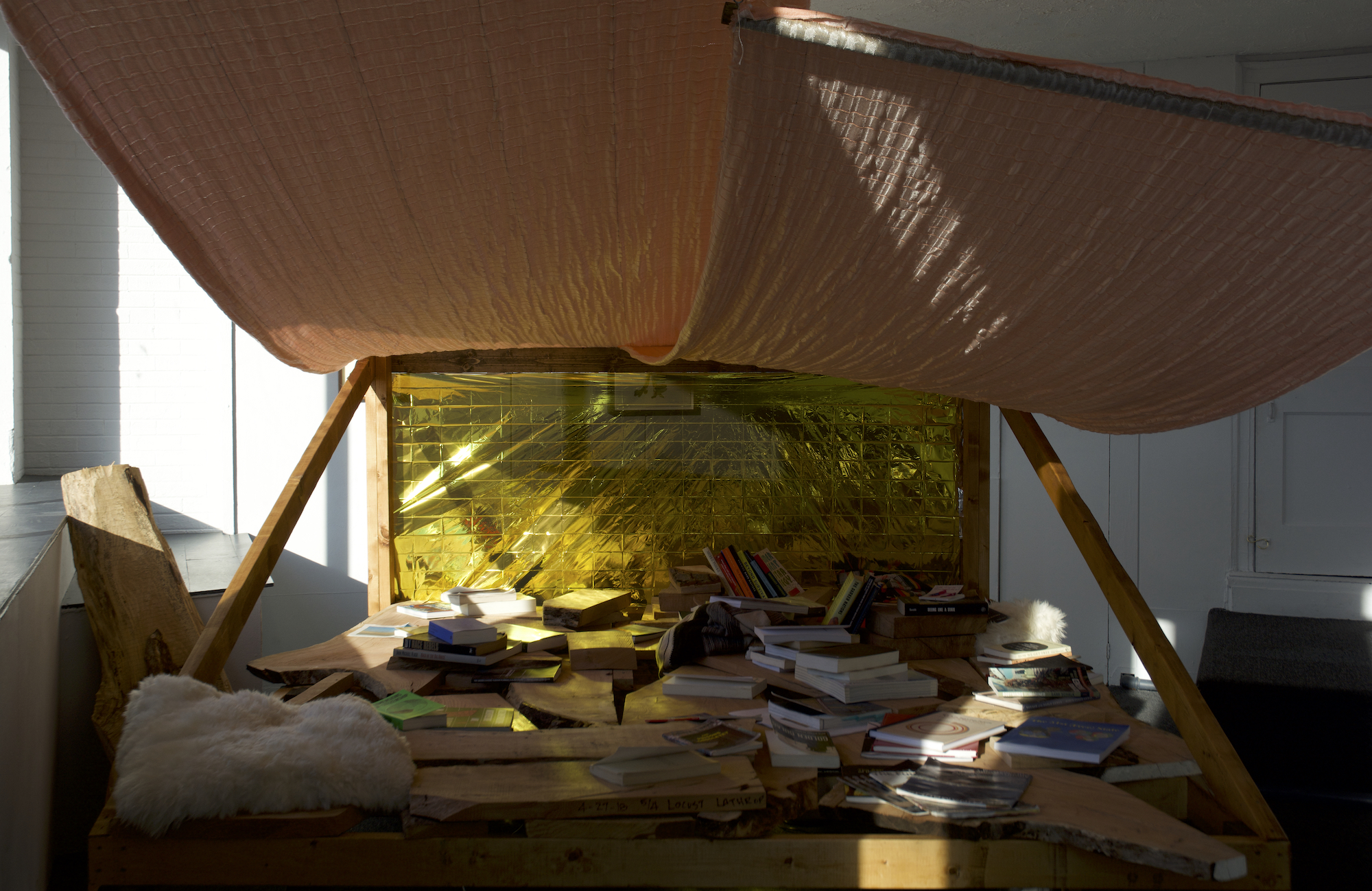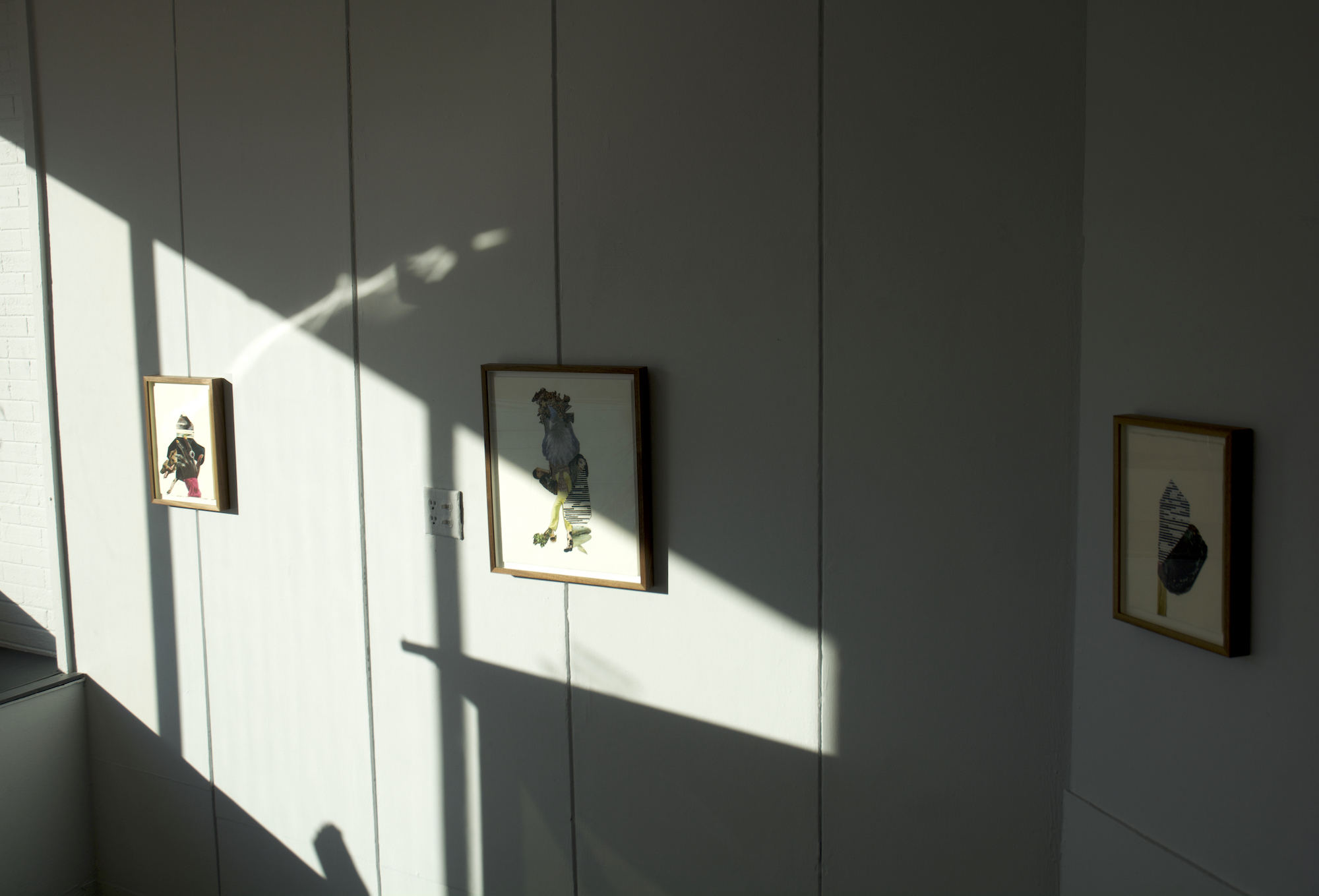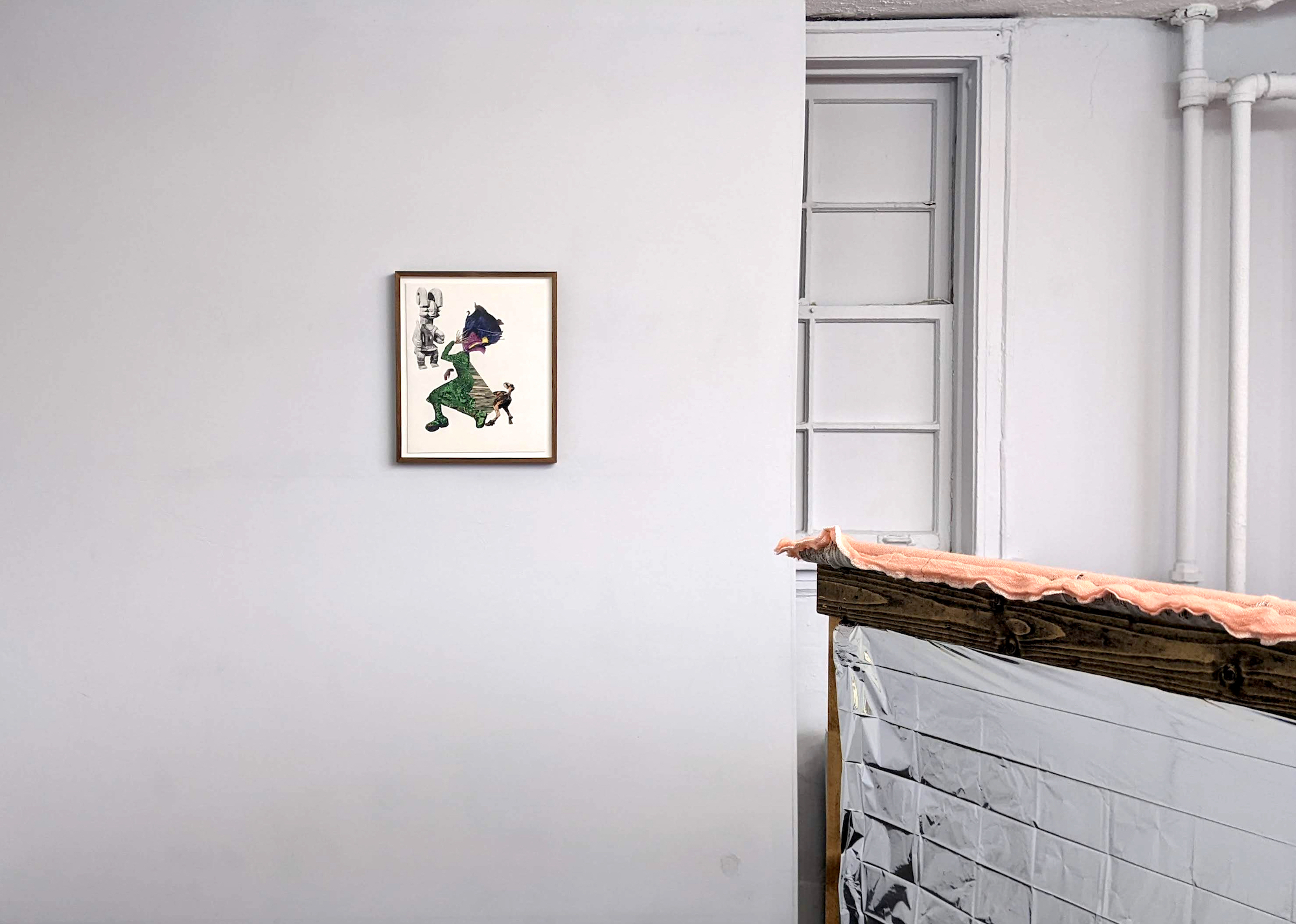 Notes on Territory: Meditation Bibliography

New Ways of Survival | Chicago Reader - November 9, 2022

Chicago Must See | ARTFORUM - October 28, 2022
Anna Martine Whitehead | Bad at Sports - October 27, 2022
---