Woman's Club
7077 N Ashland Blvd, Chicago IL
June 21, 2018 - June 20, 2020

Exploring ideas around social work, community engagement, public welfare, literacy, migration, and gender, Woman's Club installs artist-made flags at 7077 North Ashland Boulevard, the former location of the Rogers Park Woman's Club, celebrating area residents, past and present. This series was a collaborative initiative in partnership with Cuckoo's Theater.




Kandis Friesen
Summer 2020

Nie Täne is a digital scan of three stones I carried home, taken from the crumbling foundation of the former Lenin monument in my grandparent's village of Molochansk, Ukraine. Like an excerpt from a larger text, they stand here flattened into image and blowing in the wind: letters from an opaque alphabet, new teeth with which to speak. Monuments are public architectures, and their stone bases speak a geological time, as if the figures they hold emerge from the earth and history is written in stone. If a flag marks territory or allegiance, let this one mark a fealty to disintegration, a dedication to building in the ruins. When language fails and colonial infrastructures still stand, it is here where new narratives are formed: let them fall, let them fall, we will know what to do with them in the after.

Translated from the oral Russian Mennonite language, Nie Täne means 'new teeth'.


– Kandis Friesen


Originally planned for Summer 2020 at 7077 N Ashland Blvd, this work will enter our community-hosted flag collection and debut at a residential address on August 18, 2020.

Kandis Friesen's work is anchored in diasporic language, dispersed translations, and disintegrating archival forms. Drawing on Russian Mennonite, Ukrainian, and formerly Soviet geographies, her compositions build from architectural, material, and spectral inhabitations of exile, amplifying minute and myriad histories at once. Her work has been exhibited and screened internationally, at venues including LUX (London, UK), Plug In ICA (Winnipeg, CA), Hyde Park Art Center (Chicago, US), MIX (NYC, US), and Festival international du film sur l'art (Montréal, CA). Her videos are distributed by Groupe Intervention Vidéo in Montréal. For more info about the artist, please visit kandisfriesen.com.




Liz Weinstein
7077 N Ashland Blvd, Chicago IL
March 19, 2020 - June 19, 2020

Spring is here, and we are grateful to celebrate this new season with our friends and neighbors in Rogers Park. To be cautious, our planned flag-raising event for the vernal equinox will no longer take the shape of a public gathering. Nonetheless, a flag by Maryam Taghavi will come down, and a flag by Liz Weinstein will be raised to mark the transition from Winter to Spring.

Please enjoy this new flag installation at any time of day throughout the season, at the corner of Ashland Blvd and Estes Ave. The site is two miles north of the former residence of Oscar Ferdinand Mayer, and two miles south of the residence of Oscar Gottfried Mayer – midcentury sausage magnates of Chicagoland, father and son. We'll celebrate the rich local history of hot dogs at the turn of the next season!

Born and bred in the Midwest, Liz Weinstein is a photographer, printmaker, doodler, and mycology enthusiast with a BA from Columbia College Chicago and a Masters of Library Science from the University of Illinois Champaign-Urbana. Much of her work is motivated by genealogy, gender, Holocaust studies, folklore and craft, trees, ghosts, slime molds, the Northwoods, and allrecipes.com. For more information, please visit lizweinsteinphotography.tumblr.com.

Art Top 5: June 2020 | Newcity - May 26, 2020





Maryam Taghavi
7077 N Ashland Blvd, Chicago IL
December 21, 2019 - March 18, 2020

The winter flag by Maryam Taghavi will be on view at 7077 North Ashland Boulevard between the festival of Shab-e Yalda – the longest night of the year – until Nowruz – the Iranian New Year. The flag contains three words in Farsi: بیست و چهار هفت which may be translated as: Twenty Four / Seven

Maryam Taghavi is a Tehran-born artist currently residing in Chicago. She employs a post-studio, site-specific practice to weigh and intervene in existing modes of production. She is interested in an interchangeable role as both observer and participant, and locates agency in the role of the trickster. As a maker, she never pretends to be wholly outside of the taxonomies and fantasies produced by art institutional structures. Her work could be seen in a lineage of institutional critique that seeks to demystify and explicate contemporary art's relationship to labour, production, and discourse. She has exhibited nationally and internationally at institutions such as LAXART, Queens Museum, Exterressa Museum, Chicago Cultural Center, Sullivan Galleries, and Sazmanab Gallery among others. Her work is interdisciplinary, existing in photography, installation, video, publication, drawing, and performance. For more information, please visit maryamtaghavi.com.

Episode 718: Maryam Taghavi | Bad at Sports - January 31, 2020





Carolina Fernandez Del Dago
7077 N Ashland Blvd, Chicago IL
September 23, 2019 - December 20, 2019

Thirty spokes share the wheel's hub;
It is the center hole that makes it useful.
Shape clay into a vessel;
It is the space within that makes it useful.
Cut doors and windows for a room;
It is the holes which make it useful.
Therefore profit comes from what is there;
Usefulness from what is not there.

Tao Te Ching, 11

Carolina Fernandez Del Dago is a Miami-born Cuban, Barranquilla-raised visual artist. She currently works as a freelance artist and woodworker in Bogotá, Colombia. Her work has been exhibited in Barranquilla, Chicago, London, Prague, and Tucson. Her film and media work have been exhibited in outlets such as Ballroom Projects, BBC Latin America, Canal Telecaribe, Expanded View Cinema, Ex-TV, Las2Orillas, and Cine a La Calle Festival. Fernandez Del Dago attended The School of The Art Institute of Chicago, earning a BFA in Film, Video & New Media and a BA in Visual and Critical Studies in 2014. For more information, please visit carolinafernandez.format.com.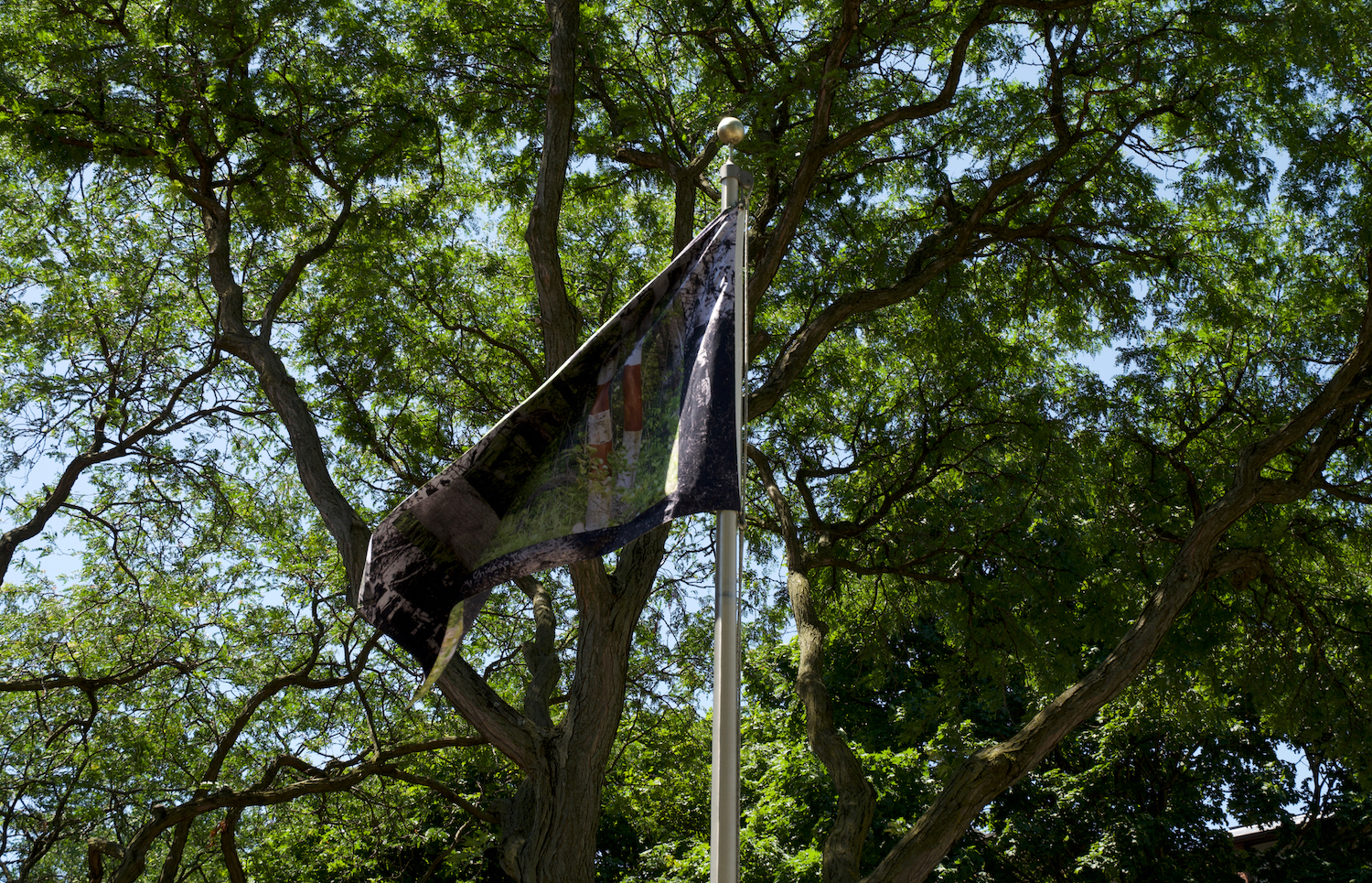 Nora Moore Lloyd
7077 N Ashland Blvd, Chicago IL
June 21, 2019 - September 22, 2019

Birchbark is best harvested in springtime, leaving evidence of its departure for the following seasons. Two photographs taken a century apart combine in this summer flag, honoring the indigenous practice of birchbark harvesting in the Midwest, specifically by the Potawatomi and Ojibwe Nations in the Chicagoland area, Wisconsin and Michigan.

Nora Moore Lloyd spent twenty years in the graphic design business and now expresses her passion for photography by focusing on indigenous cultures, nature, and documenting community or family history through traditional storytelling and photos. Her work has been exhibited at American Indian Center, Cahokia Mounds Museum, Chicago History Museum, Comanche National Museum, Field Museum, Mashantucket Pequot Museum, Museo Nacional de Etnografia y Folklore (Bolivia), Museo Nacional de Arqueologia y Ethnologia de Guatemala (Guatemala), State of Illinois Museum Gallery (Champaign, Chicago, Lockport, Springfield, IL), and elsewhere. For more information, please visit nativepics.org.

birchbark, wiigwaas (PDF)




Robin Hustle
7077 N Ashland Blvd, Chicago IL
March 20, 2019 - June 20, 2019

Robin Hustle is a community health nurse, writer, and artist who produces her own creative work while connecting with and supporting other artists. A founding editor of collaborative publications The Land Line and Skeleton News, Hustle also published the zines Curdled Milk, Leftovers Again?! and Mirror Tricks. She has written about politics, sex work, health care, gender, and affect theory for $PREAD Magazine, VICE, and The Journal of Radical Shimming. Hustle has been a part of exhibitions at The Back Room at Kim's Corner Food, Gallery 400, Roots and Culture, and Woman Made Gallery, among others. Most recently, Hustle edited Careful Material, a publication that celebrates and engages Thomas Kong's art practice and convenience store, Kim's Corner Food, which is approximately 1,000 feet east of 7077 North Ashland, at the corner of Estes and the of Glenwood Avenue.





Nancy Lu Rosenheim
7077 N Ashland Blvd, Chicago IL
December 21, 2018 - March 19, 2019

The winter flag Winter Burst the Steam Pipe! highlights the particular challenge of Chicago's wintertime climate for the aging buildings of our neighborhood, and the difficulties faced by new arrivals to the city unprepared for the harsh conditions. The flag honors the activism of the Rogers Park Woman's Club for its contributions to community welfare. The original settlers' village of Rogers Park was incorporated in 1873, joining Chicago in 1893 – two years after the founding of RPWC. Throughout the community's history, Rogers Park has been the home to thriving organizations that welcome immigrants and refugees.

Nancy Lu Rosenheim is an interdisciplinary artist who has maintained studio practices in New York City, Granada, Spain and Chicago, IL. Selected exhibitions include Slow, Hyde Park Art Center, Dickson Window Project Space, Roman Susan, Fine Arts Gallery of Northeastern Illinois University, Anchorage Museum of Art, Alaska, Galería Cartel and Galería Verlín in Granada, Spain and Singer Sweat Shop in Rotterdam, Netherlands. Rosenheim is founding director of The Bike Room, where she has showcased forty-nine emerging and established artists since 2011. For more information, please visit nancylurosenheim.com.





Angela Lopez
7077 N Ashland Blvd, Chicago IL
September 22, 2018 - December 20, 2018

The fall flag Bodies of Water explores transformation, symbolic and elemental. Angela Lopez has exhibited her work in across the Midwest, including solo exhibitions at Charlotte Street Foundation and Demo Projects, in addition to group exhibitions including the Mary & Leigh Block Museum of Art, Hyde Park Art Center, and Centro de Produccion y Edicion Grafica de Buenos Aires in Argentina. She holds a BFA from Kansas City Art Institute, and an MFA from Northwestern University. Lopez is a founder of the artist-led collaborative project Extended Practice. For more information, please visit lopezangela.com.

Bodies of Water Zine (PDF)




Olivia Jade Juárez
7077 N Ashland Blvd, Chicago IL
June 21, 2018 - September 21, 2018

Olivia Jade Juárez is an artist working in sculpture and pattern development. She manages the Metalworking and Forging Department at Chicago Industrial Arts & Design Center in Rogers Park, with past experience at the Anderson Ranch Arts Center in Colorado and Vivian Beer Studio Works in New Hampshire. Juarez attended high school at the Waldorf School in Rogers Park, and earned her BFA from Alfred University in New York. Her current studio practice ranges from digital design, sewing, felting, forging and metal fabrication. For Woman's Club Juárez is working with her collaborator Remy Lucien Bordas – together they form the collective Luc Jade.





Founded by ten women in 1891, the Rogers Park Woman's Club expanded to 900 members and worked for over a century to provide social and cultural services in North Chicago before disbanding in 1996. Early projects undertaken by RPWC included establishment of a public library and reading room, and the founding of pre-elementary school education – the former incorporated into the Chicago Public Library, the latter into the Chicago Public School system in the late 19th century. On the 25th anniversary of RPWC, the organization commissioned a clubhouse built at 7077 North Ashland Boulevard, which housed RPWC activities into the early 1980s. For additional information about RPWC, please view The Rogers Park Woman's Club: Following the Organization of Early Philanthropic Movements, Americanization Classes and Educational Justice by Leah Levine.

Image above: Groundbreaking celebration at 7077 North Ashland Boulevard (c. 1916) courtesy of Rogers Park/West Ridge Historical Society; image below: western entrance to 7077 North Ashland Boulevard, Spring 2018.




Cuckoo's Theater purchased the historic site in 2016 and are in the process of rehabilitating the interior to become a dedicated performing arts center for Rogers Park. Cuckoo's Theater produces works that expose the discomforts of human nature. By navigating the struggle as a community, we seek to find light within the darkness in the hopes of creating a brighter future. For more information, please visit thecuckoostheater.com.



Flags created for Woman's Club have also been shared in other parts of Chicagoland following their season at 7077 North Ashland Boulevard. As a part of the 2019 Terrain Biennial, flags by Robin Hustle, Olivia Jade Juárez, Nora Moore Lloyd, Angela Lopez, Nancy Lu Rosenheim, and Liz Weinstein were sited in Rogers Park, West Ridge, Logan Square, the Near West Side, and Evanston from October 1 to November 17, 2019 – check out the sites via gps or picture map.




This project at the former Rogers Park Woman's Club concluded in Summer 2020.


---