Melon Sprout and Clark Woods
simulated trans*ition
1224 W Loyola Ave, Chicago IL
July 8, 2022 - July 11, 2022

Simulated Trans*ition is a real-life bridge between the ways that we pass as trans* people and the ways that our physical and virtual work extend ourselves and our relationships to passing. In an attempt to post-pass – more specifically, to extend the meaning of passing physically, socially, and virtually with our trans*ness – beyond the binary through our work, Clark Woods and Melon Sprout will perform musically alongside abstracted 3D animated projections of their work and their scanned bodies to post-pass beyond our trans*ness and into the realm of the fantastical genderfull self. Clark and Melon sonically activate the ceramic instrument called Glory Hole in order to bridge a grayed gap between the virtual fantasy and the IRL passing spaces and the manipulation of the self through passing within these different planes of expressed identity.




Melon Sprout is a performative artmaker focused on ceramics. Melon is a non-binary, queer artist who uses they/them/theirs pronouns. Their practice explores the ways that art can extend communication through performative viewing. Melon creates ceramic sculpture instruments, activated by viewer vocalization. Melon was born and raised in Boston, Massachusetts, and currently works and studies in Chicago, where they received their Bachelors Degree in Fine Arts from the School of The Art Institute of Chicago in 2022, and currently work in their ceramics studio in Humboldt Park. Melon hopes to share their work through performances and sculptural interactions with viewers.

Clark Woods self identifies as a "Genderf*cked-Cyborg Cowboy" in their artistic practice. Implied by this title, they are a queer non-binary trans* artist whose works blend and utilize technology as an extension of their body to bridge the 'real' with the 'virtual'. Clark embodies the historically rich spirit of the CAMP cowboy in this process as a gesture that serves both to fulfill a personal fantasy, and to represent the reality of the historically trans* and queer cowboy. Their works use media including but not limited to video, 3D/CGI, augmented reality, web-art, and performances to create mixed reality experiences of varying degrees and forms. Clark has shown work at spaces including Intersect Arts Space, New Arts City, and Fluffy Crimes, and expects to earn their BFA from the School of The Art Institute of Chicago in 2023.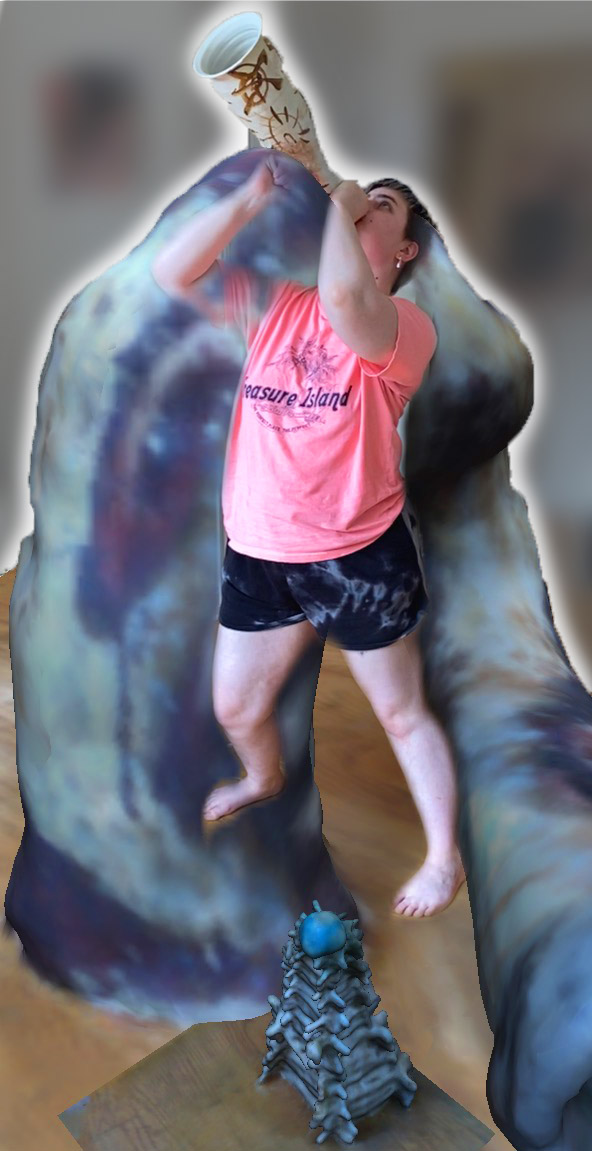 ---