—on the bank of what river?
1224 W Loyola Ave, Chicago IL
February 11, 2017 - February 25, 2017

To say goodbye is to deny separation; it is to say Today we play at going our own ways, but we'll see each other tomorrow. Men invented farewells because they somehow knew themselves to be immortal, even while seeing themselves as contingent and ephemeral.

One day we will pick up this uncertain conversation again, Delia—on the bank of what river?—and we will ask ourselves whether we were once, in a city that vanished into the plains, Borges and Delia.

Jorge Luis Borges, Delia Elena San Marco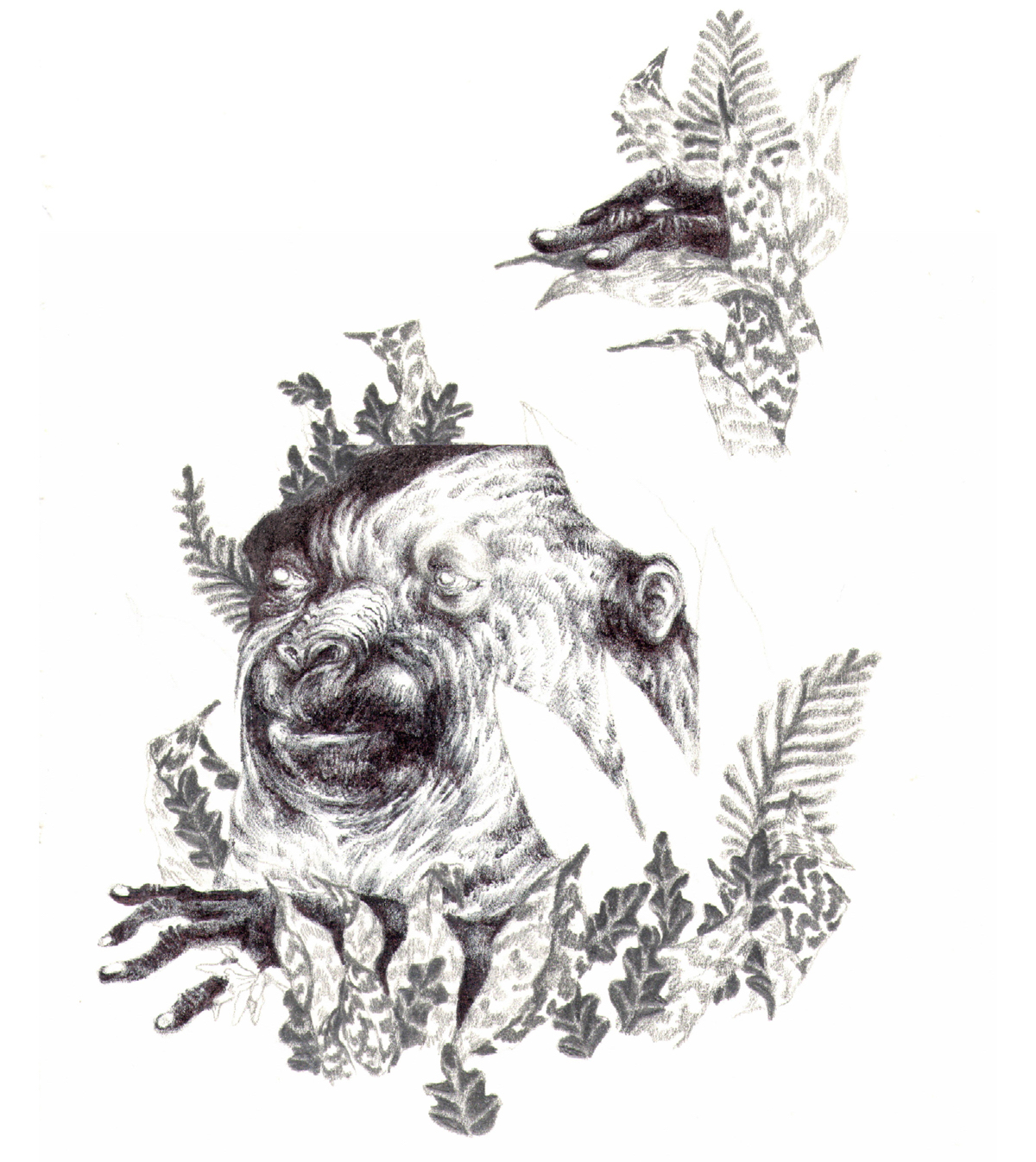 Works by

Maryam Hoseini

,

Em Kettner

,

Gülşah Mursaloğlu

,

Kayla Risko

, and

Erin Washington

.

Plucking its title from Borges' Delia Elena San Marco, a tale that braids together the arc of cultural histories with bonds between individuals, —on the bank of what river? observes how these forces overlap and absorb one another. The phrase alights mid-sentence and hovers, speculative, over an understanding of the ephemeral invoked by myth and cyclical being. Through a range of intimate gestures within the sphere of drawing, these works attest to the histories enmeshed in lived relations.

The works here evince an insistence on vulnerability and touch. Layered surfaces of Erin Washington's works suggest repeated effacement and accumulation, and the chalk drawing presiding as final layer seems to acknowledge that conclusions are but momentary positions of rest. Graphite applied in frothy marks border the lilting curves in Risko's compositions, and Maryam Hoseini's delicate, resolute lines trace the figures of women; their sinuous limbs loop round, freely extending gestures of affection and alarm. Mursaloglu makes use of the tactile, visual, and olfactory qualities of her materials to orchestrate and reveal conditions of interaction among mundane and enigmatic objects. Her ink and colored pencil drawings rehearse the unstable, interdependent systems of her sculptures. Em Kettner's positioning of textured drawings invites the viewer to stoop or sit. Her fragmentary images allude to historical practices concerning the treatment of the differently abled—practices that animalize and ostracize "wrong" bodies, drawn here as coverings that both protect and obscure.

Resting unframed on a plywood table in the center of the room, or pinned at various heights along the walls, the placement of drawings shifts rhythmically, and adjusts organically to the triangular dimensions of the space. Slight in physical heft and unassuming in scale, the works in this exhibition are at turns pensive, tenderly humorous, and confiding.

The exhibition concluded on February 25 with selected texts read by Eli Bensusan, Robert Burnier, Gülşah Mursaloğlu, Kayla Risko, and Erin Washington.

Image above: Em Kettner, She was not a human, Ink and graphite on paper, 2015; image below: Maryam Hoseini, Daily Life III, Acrylic on paper, 2015.




Maryam Hoseini is an artist who currently lives and works between New York and Chicago. Her work explores the subtle relationships between bodies, architectural space, and moral laws. She holds an MFA from both the Milton Avery School of the Arts, Bard College and the School of Art Institute of Chicago. Hoseini is a 2016 Visual Arts Fellow of the Luminarts Cultural Foundation, and in recent years she has shown work at MOMA Ps1, New York; Touch Gallery, Cambridge; Minotaur Projects, Los Angeles; the Munich Cultural Center, Munich, Germany; and Frank Pages Gallery, Geneva, Switzerland, among others.

Em Kettner is an artist and writer from Melrose Park, PA. Kettner holds a BFA from The University of the Arts in Philadelphia and received her MFA from the School of the Art Institute of Chicago. Since graduating she has taught at SAIC in the Painting and Drawing, Contemporary Practices, and Liberal Arts departments. Recent exhibitions include two- and three-person shows at Western Exhibitions, HARPY, and Fernwey Gallery. She has given lectures and performances in Chicago at DePaul University, Kavi Gupta Gallery, Julius Caesar Gallery, and the School of the Art Institute of Chicago, and has published writing with Title Magazine, Fernwey Gallery, and Shaheen Gallery. Kettner currently spends part of each year weaving on an ancient loom and cooking clay out in El Cerrito, California.

Gulsah Mursaloglu is an artist living and working in Chicago, IL. She received her BA from Bogazici University (Istanbul, Turkey) where she studied sociology and she received her MFA from the School of the Art Institute of Chicago. She has shown her work at a variety of venues, including Sullivan Galleries (Chicago, IL), Evanston Art Center (Evanston, IL), Richmond Art Gallery (Richmond, Canada), and she also participated in the 2nd Santorini Biennale in Santorini, Greece. After graduating with her MFA she has been awarded a Teaching Fellowship at the School of the Art Institute of Chicago where she taught in the Painting and Drawing Department. Recently Gulsah has been included in the Ground Floor Biennial at the Hyde Park Art Center.

Kayla Risko is an artist living and working in Chicago, IL. She received her BFA from the School of the Museum of Fine Arts, Boston, and Tufts University, and her MFA from the School of the Art Institute of Chicago in 2015, where she was awarded a Teaching Fellowship in the Painting and Drawing Dept. Risko has been an Artist-in-Residence at the Fundação Armando Alvares Penteado (Sao Paulo, Brazil) and 723 Louisa St (New Orleans, LA). She has recently shown work in group shows at Antenna (New Orleans, LA), Kruger Gallery (Chicago, IL), and had a solo exhibition at Randy Alexander in 2016 (Chicago, IL).

Erin Washington is a painter, drawer, and installation artist currently living and working in Chicago. Using fugitive and symbolic materials (ex. ashes, blackberries, bones, chalk, moss, and spaceblankets), Washington's works source imagery from the Sciences, Mythology, and Art History that represent ruptures and failures in the search for meaning and truth. Erin is currently a lecturer in the Painting and Drawing Department at the School of the Art Institute of Chicago, where she received her MFA in 2011. Notable solo exhibitions have been held at such venues as The Riverside Art Center in Riverside Illinois and Zolla/Lieberman Gallery in Chicago. Her work has also been included in group exhibitions at such spaces as Shane Campbell Gallery, Chicago; The Hyde Park Art Center; and Columbia University in New York.

–on the bank of what river? Exhibition Guide (PDF)


---