Peter Ronan and Cassie Tompkins
Pink Moon
1224 W Loyola Ave, Chicago IL
April 1, 2023 - April 30, 2023

Open Thursdays 4-7 PM, Saturdays 1-4 PM, and by appointment
Market Saturday, April 29 from 1-4 PM

I saw it written and I saw it say
A pink moon is on its way
And none of you stand so tall
Pink moon gonna get ye all

–– Nick Drake, Pink Moon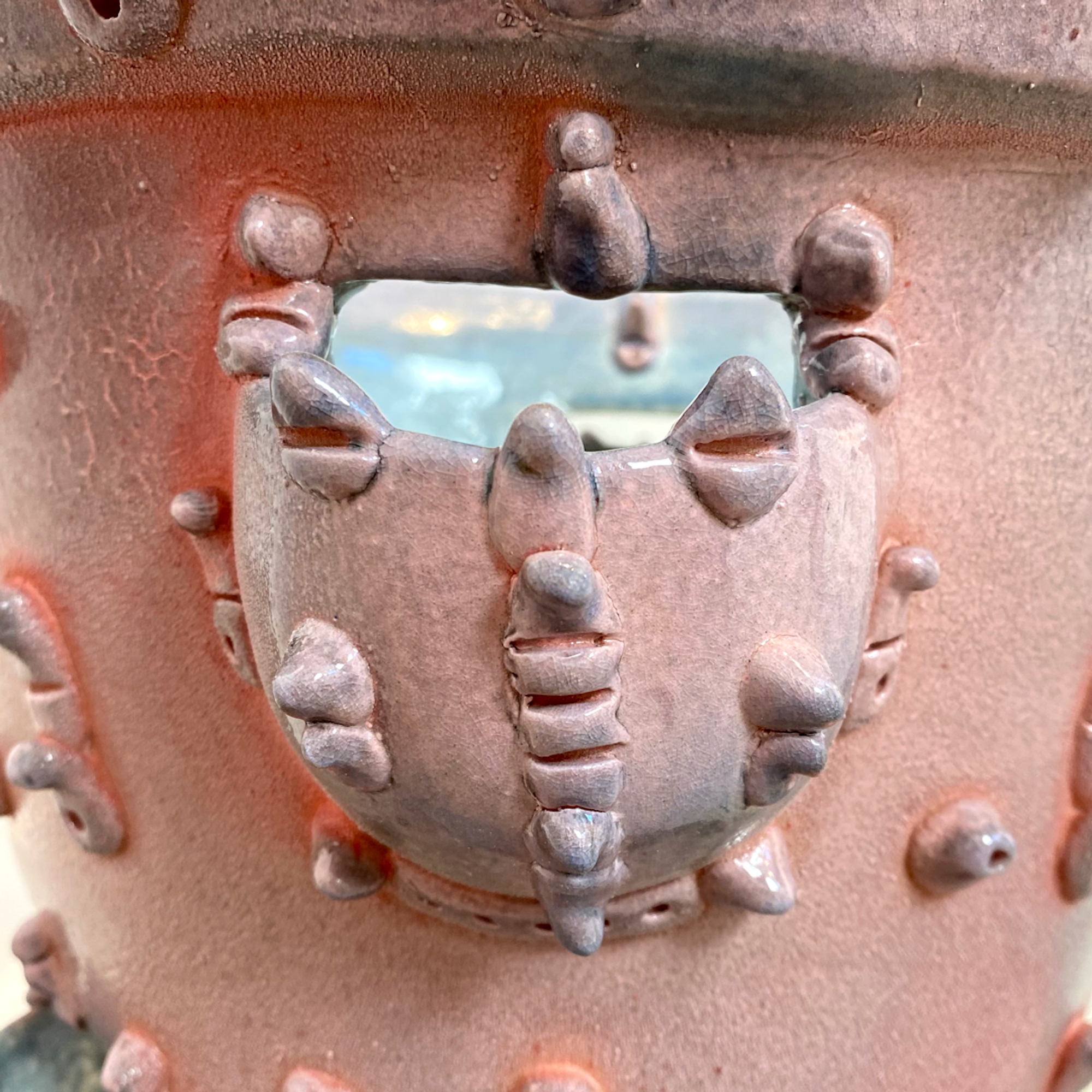 We bear witness to the cyclical nature of life when the full moon rises in spring, shining down on us from the heavens. Named by indigenous Americans after the native phlox — one of the earliest widespread flowers of spring — the "Pink Moon" exerts a strong gravitational pull. Upsetting the tide and provoking tectonic activity, it signifies metamorphosis, reminding us that awkward transitions and warmer days are ahead. Like the wild phlox, we emerge hairy and sticky from the cold, creeping around the ground in search of bittersweet gifts from the season. Our queer leaves sprout, pushing and nudging through frozen ground, climbing toward a beaming light. Rolling around in fresh grass and dewy, dark soil, we search for the first fruits—tart, pink-green strawberries devoured before they're snatched up by hungry birds and small mammals. We are greedy with optimism for the coming season but remain cautious lest we are tempted by rhubarb's sour stalks and poisonous leaves.

The work in this exhibition is about rebirth and renewal. The processes — literal and fantastical — can be messy and imperfect. Forms and colors are built from clay, fiber, insects, plants, and minerals. Their serendipitous conclusions are the results of bodily gestures and visceral reactions. Peter Ronan and Cassie Tompkins found themselves fumbling out of the fog of anxiety and grief of 2020 into the natural world. The activity of gardening became a source of calm and inspiration to their art practices. Tompkins spent the spring and summer of 2021 and 2022 nurturing vegetable and native prairie gardens. She uses natural dyes derived from plants, insects, and minerals to alter silk fabric. The resulting imagery is fluid and sensitive to the elements. The inclusion of rust acts as a modifier, shifting the dye colors and threatening to corrode the delicate fabric. Her ceramic work began as an exploration of shape and transformed into vessels symbolizing the experience of loss and grief. Ronan made dozens of fantastical ceramic vessels to hold his ever-growing collection of plants. The objects flaunt pleasure and decadence, living in an emotional, physical, spiritual, and metaphysical realm. They satisfy the desire for sensory overload and to defy categorization. The functional pots and lidded boxes embody "otherness"— queer and highly decorative, they transgress binaries.




Peter Ronan is a Chicago-based artist who grew up between Idaho and Washington. He was an artist in residence at Lillstreet Art Center from 2019–20, where he currently teaches and houses his studio. He received the 2018–19 Anonymous Studio Residency at the Northern Clay Center and earned a BFA with a concentration in ceramics from Boise State University in 2015. Following his undergraduate studies he moved to Philadelphia and interned at The Clay Studio, where he ascended to the work exchange program, and was then promoted to education assistant. A fabulous butch queen, he makes work that is focused on the queer experience. While living and working in Minnesota and Chicago his practice became more openly homoerotic and it continues to evolve in this direction. For more information, please visit tripcrystalceramics.com.

Cassie Tompkins is a Chicago-based multidisciplinary artist currently working with printmaking, textiles, and ceramics. In 2001 she graduated with a BFA in photography from the Milwaukee Institute of Art & Design and in 2010 received a BFA with a concentration in visual communication design from the School of the Art Institute of Chicago. Tompkins's work explores transcendent environments and reinterprets ephemeral experiences. She was the Lillstreet Art Center's artist-in-residence in Textiles from 2019–21. In 2018 she was an award recipient of the Cleve Carney Art Gallery's One: Annual Emerging Artist exhibition and an open studio resident at Haystack Mountain School of Crafts, Deer Isle, ME. She completed the inaugural FIELD/WORK Residency at the Chicago Artist Coalition and attended ACRE residency in Steuben, WI in 2017. She has exhibited throughout the Chicago area at Mana Contemporary Chicago, the Comfort Station, the Annex Gallery at Spudnik Press, Lillstreet Art Center, ACRE Projects, Cleve Carney Art Gallery, and Co-Prosperity Sphere. For more information, please visit cassietompkins.com.

Pink Moon Exhibition Guide (PDF)

Pink Moon on display at Roman Susan | Loyola Phoenix - April 5, 2023


---