Anna Johnson et al.
MEMBRANE VARIATIONS
1224 W Loyola Ave, Chicago IL
August 9, 2023 - August 22, 2023

VARIATION I.
Sunday, August 13 at 8 PM
Performance by Anna Johnson, castroduperly, and Crystal Myslajek

An Idea Becomes Cloth, a Poetics of Curtains as Membranes and Membranes as Walls
Tuesday, August 15 at 8 PM
A lecture by Inés Arango-Guingue

VARIATION II.
Sunday, August 20 at 8 PM
Performance by Anna Johnson, Eric Capper and Zachary Nicol

VARIATION III.
Tuesday, August 22 at 8 PM
Performance by Anna Johnson





MEMBRANE VARIATIONS plays with the concept of the membrane – a protective, semipermeable layer between interior and exterior. Expanding outwards from the purely biological, it considers the membrane as a spatial, temporal, and existential phenomenon. This project features a series of nighttime activations incorporating live expanded cinema projection, sound performance, and movement. Activations occur on Sundays and Tuesdays at dusk, with doors at 8 PM. Other dates, the project is on view directly from the street after dark.

Anna and collaborators will perform creative variations devised and experienced through a process of site-responsivity and improvisation which aim to uncover and reveal material membranes latent within the unique architecture of Roman Susan and its surrounding area. Simultaneously, the collaborative nature of these performances explores the membrane as an inter-relational threshold between bodies, space and expression. In this space of symbiotic exchange, MEMBRANE VARIATIONS circulates around questions of (in)-betweenness.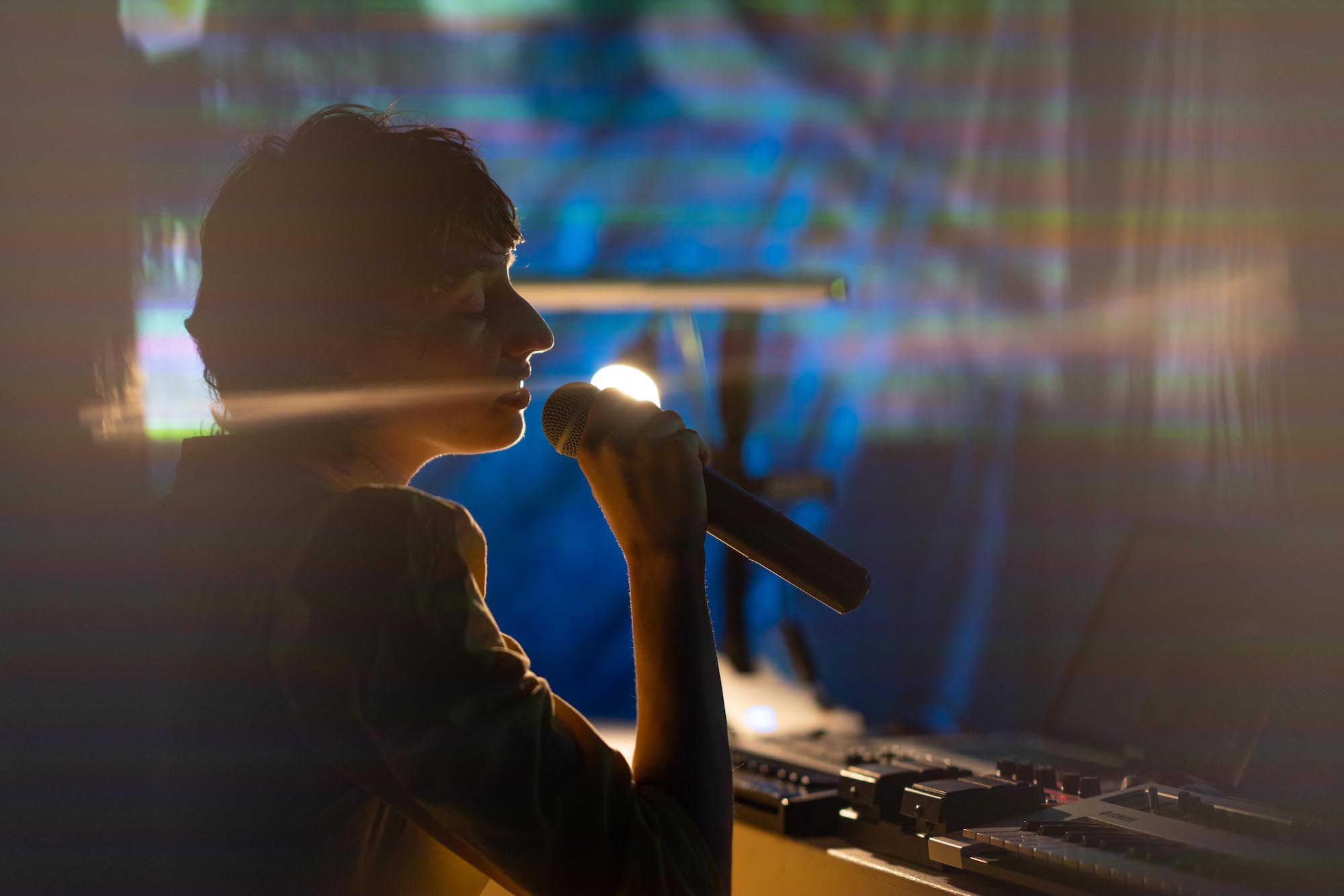 Anna Johnson is an experimental artist working at intersections of performance, sound/musical composition, cinematic moving image and sculptural installation. Her practice explores processes of transformation through emotional and psychological landscapes, made manifest and inhabited within one's body. She is based in Chicago, IL. More info at annajohnsonart.com.

Inés Arango-Guingue is a Chicago-based, Colombian independent curator, writer, and arts administrator with a focus on Latin American and Latinx contemporary art. She holds an M.A. in Arts Administration and Policy from the School of the Art Institute of Chicago and a B.F.A. in Art and Cultural Projects from Universidad de los Andes in Bogotá. More info at @inesarangog.

Eric Capper is a sound and sculpture artist, fabricator, and educator from Queens, NY. More info at ericcapper.com and @e___cap.

castroduperly AV artist and performer who understands video, voice, and written text as agents of execution (.exe). More info at castroduperly.com and @castroduperly.

Crystal Myslajek is a Minneapolis-based multi-instrumentalist, sound artist, and collaborator who explores deep listening, embodiment of sound, and connection through music. More info at circadiamusic.bandcamp.com and @cmyslajek.

Zachary Nicol is an artist and performer based in Chicago. Their interdisciplinary work uses research in dance, movement, site, and image to unfold problems of the performing body, and has been presented locally, nationally, and internationally. More info at @zxnicl.


---