Burrow, Tousle
1224 W Loyola Ave, Chicago IL
August 22, 2020 - September 2, 2020

Burrow, Tousle is comprised of two improvised solos existing, meeting, and colliding in the same space; unearthing what it looks and feels like to be at home with another person. This work is an ongoing collaboration between Kara Brody and Amanda Maraist (movement, direction), Chien An Yuan (film) and Chrissy Martin (sound). The work is currently in its second year of performance and process.

Burrow, Tousle will be projected each afternoon and evening, visible directly from the street at 1224 W Loyola Ave while the space itself remains closed to the public.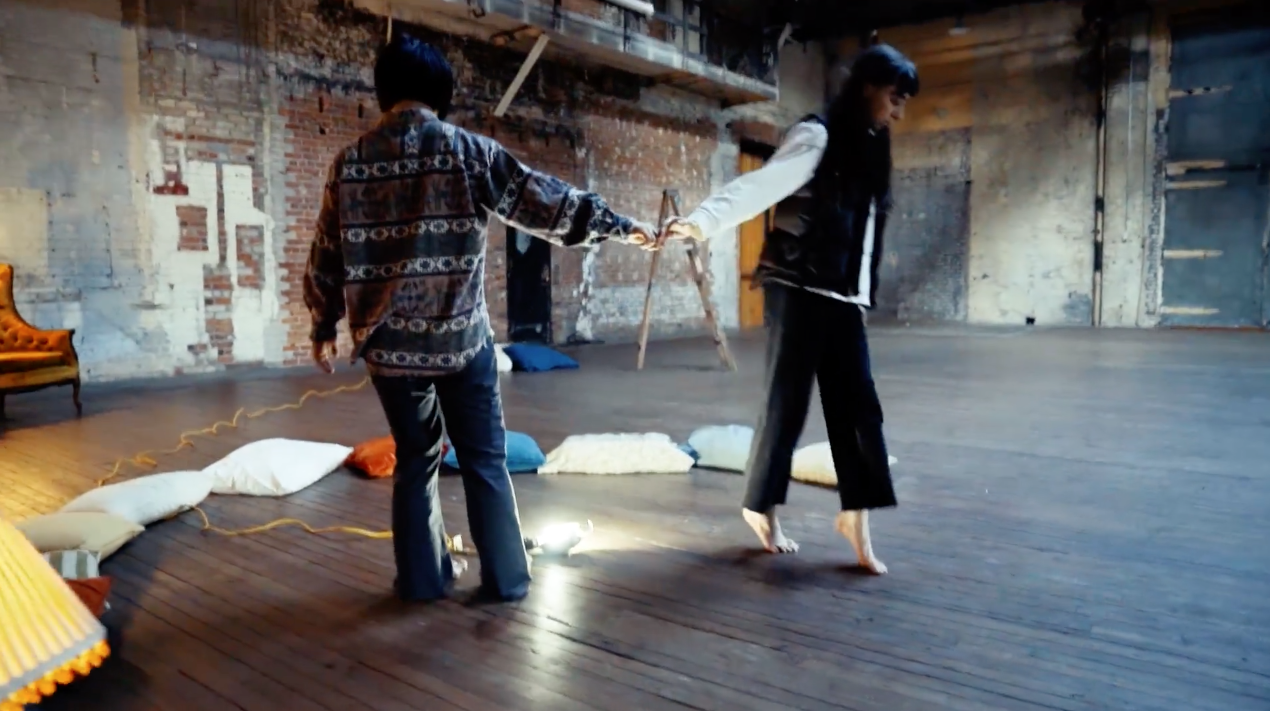 Kara Brody is a native of Detroit, Michigan and received her BFA in dance from Wayne State University. She dances with Chicago companies Khecari, Lucky Plush Productions and The Cambrians, and has performed works by Kevin Iega Jeff, Shannon Alvis, and Alice Klock. Brody teaches in Chicago and throughout the Midwest. She has been on faculty at Visceral Dance, Dovetail Studios, The Cambrians' Winter and Summer intensives, Brighton Dance Festival, and The Actors Gymnasium. She guest teaches at University of Chicago and regularly teaches company and master classes for Lucky Plush Productions.

Amanda Maraist is a movement deviser, improviser and performer from the Texas Gulf Coast. She performs in Chicago with Khecari, and acts as an operations assistant for the company. She participates in several other collaborative processes with local musicians and artists, with her personal work imagining the body as a sloppy archive, and aiming to incite coinicidence. Through authentic movement practices and meticulously rendered improvisational scores she welcomes unwieldy processes and a DIY demeanor.

Chrissy Martin is an interdisciplinary performing artist with a background in dance, vocal performance, and experimental theater. She graduated with a BFA in music and performance studies from New College of Florida in 2006 and is currently pursuing an MFA in Dance at Smith College. She has been lucky to be a part of numerous companies around the US, including Sarasota Contemporary Dance, Muscle Memory Dance Theatre, Danielle Georgiou Dance Group, Dead White Zombies, and BodyCompass Dance Projects in Chicago. Somatic practices such as Pilates, Gyrotonic ® Expansion System, Body Mind Centering, and Laban Movement Analysis deeply inform Chrissy's integrated movement style. Chrissy is part of the global contact improvisation community, which has inspired her to develop her own improvisational structures.

Chien An Yuan is an interdisciplinary artist – photography, music composition / performance, sound design, graphic design, film direction, and quite recently, stage design. He runs a record label, 1473, focused on experimentation, electronics, and improvisation.





---