Nora Moore Lloyd
Birchbark, Wiigwaas (The Beauty & History of Birch)
Rogers Park/West Ridge Historical Society
7363 N Greenview Ave, Chicago IL
June 17, 2020 - September 30, 2020




Birchbark is best harvested in springtime, leaving evidence of its departure for the following seasons. This exhibition honors the indigenous practice of birchbark harvesting in the Great Lakes region, specifically by the Potawatomi and Ojibwe Nations in the Chicagoland area, Illinois, Michigan, and Wisconsin. Birchbark, Wiigwaas presents new images by Nora Moore Lloyd, video by

James Kaagegaabaw Vukelich

, with archival material and images from the American Indian Center and Rogers Park/West Ridge Historical Society.

Nora Moore Lloyd creates artwork with a focus on indigenous cultures, nature, and documenting community and family history through traditional storytelling and photos. Her work has been exhibited at American Indian Center, Cahokia Mounds Museum, Chicago History Museum, Comanche National Museum, Field Museum, Mashantucket Pequot Museum, Museo Nacional de Etnografia y Folklore (Bolivia), Museo Nacional de Arqueologia y Ethnologia de Guatemala, State of Illinois Museum Gallery (Champaign, Chicago, Lockport, Springfield, IL), and elsewhere. For more information, please visit nativepics.org.




James Kaagegaabaw Vukelich is a leading voice in Native Language revitalization efforts. His insights on the interconnectedness of language and culture were developed in the field speaking with and recording elders and native speakers of the language in Canada, Michigan and Minnesota as part of the Ojibwe Language Dictionary Project. James shares his work on a website founded to help people learn about Native Culture and to teach Native Languages. For additional info, please visit jamesvukelich.com.

American Indian Center promotes fellowship among Indian people of all Tribes living in metropolitan Chicago and creates bonds of understanding and communication between Indians and non-Indians in this city. Today, the American Indian Center strives to be the primary cultural and community resource for nearly 65,000 American Indians in Chicagoland's six-county region. American Indian Center seeks to foster physical and spiritual health in the community, an active connection with traditional values and practices, stronger families with multigenerational bonds, and a rising generation of educated, articulate, and visionary youth. For additional information, please visit aicchicago.org.

Rogers Park/West Ridge Historical Society collects, preserves and shares the story of the diverse community of Chicago's far north side. Established on July 28, 1975 by local residents who believed their part of Chicago was a place with much to celebrate, the Society today serves the community through its publications, architectural tours, and various educational and outreach efforts. For additional information, please visit rpwrhs.org.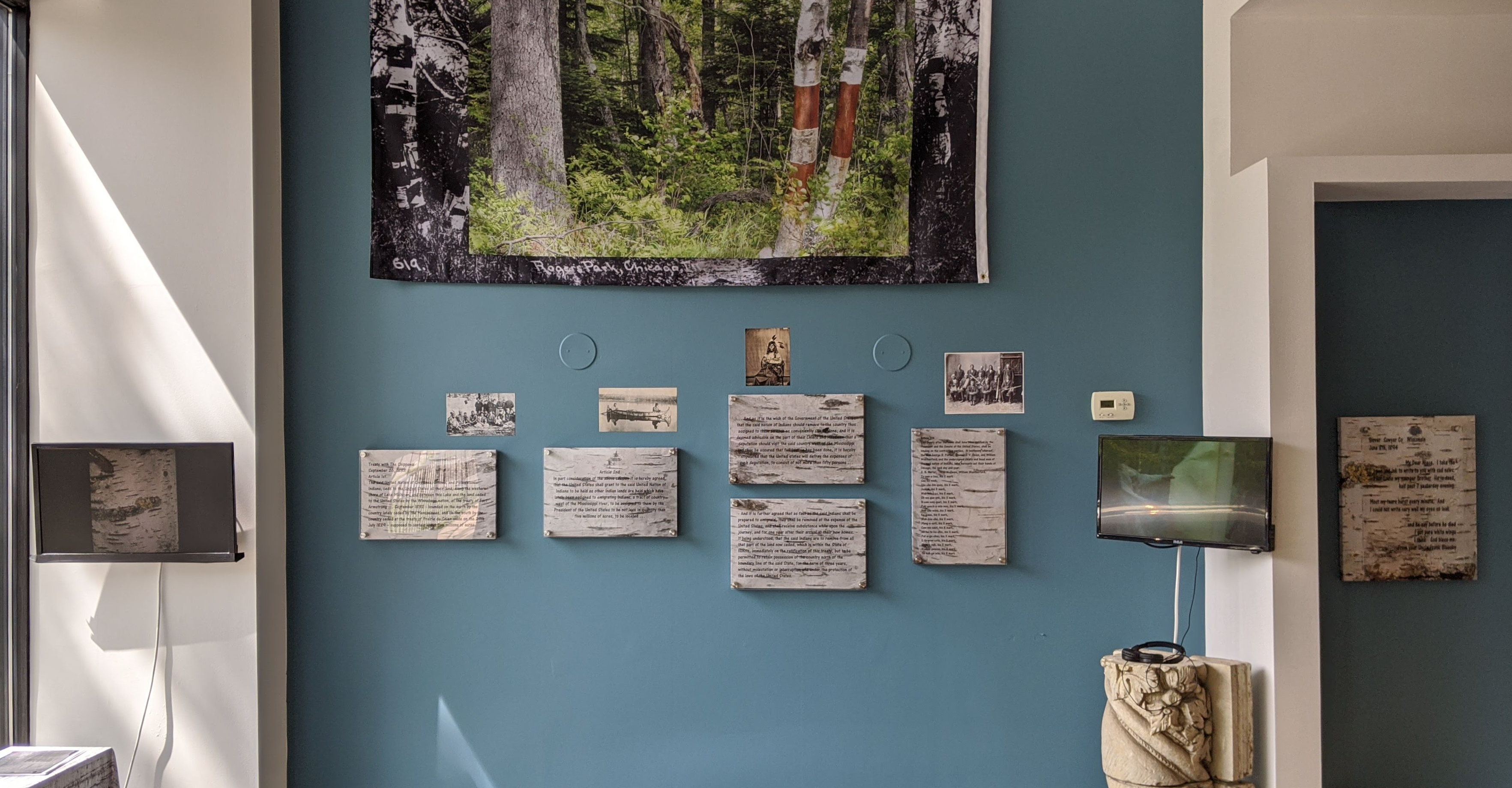 Treaty with the Ottawa, etc., 1816 (PDF); Treaty with the Ottawa, etc., 1821 (PDF); Treaty with the Chippewa, etc., 1833 (PDF); Treaty with the Chippewa, etc., 1833 Supplement (PDF); The Red Man's Greeting by Chief Pokagon (PDF); Paper Birch (Wiigwaas) of the Lake States, 1980-2010 from USDA (PDF); O2019-6976 from City of Chicago Office of the County Clerk (PDF)

The Past is Present: A Review of Birchbark, Wiigwaas | Newcity - July 20, 2020

Artist talk with Kristin and Nathan Abhalter Smith | January 26, 2022


---